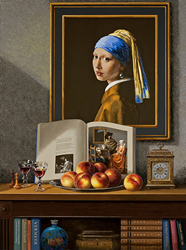 Even with a well-conceived composition in place, the painting has a life of its own and the best ones surprise even the artist with twists and turns that outshine the most clever of plans. – Jenness Cortez
AVERILL PARK, N.Y. (PRWEB) February 13, 2019
A new exhibition by internationally acclaimed painter Jenness Cortez will honor a group of illustrious artists including Johannes Vermeer, Pierre-Auguste Renoir, John Singer Sargent, Childe Hassam and Winslow Homer. On view February 17 through March 8, 2019 at the Harmon-Meek Gallery in Naples, Florida, this one-person show represents the latest installment in the Cortez series of thought-provoking paintings depicting art in art.
Historically, the tradition of "art in art" was most notably employed by such 17th-century Dutch artists as Johannes Vermeer. In her own painting "Alluring," Cortez pays homage to the genius of Vermeer by incorporating his iconic "Girl with a Pearl Earring" into her own original composition. In "Alluring" Cortez continues to reexamine the classic paradox of realism: the painting both as a "window" into an imagined space and as a physical object.
Painting details: "Alluring," © by Jenness Cortez: acrylic on mahogany panel, 40 by 30 inches; Homage to: Johannes Vermeer (1632-1675) "Girl with a Pearl Earring" 1665, Mauritshuis Museum, The Hague; "The Glass of Wine," Gemaldegalerie Alte Meister, Dresden; Franz van Mieris (1635-1681); "The Oyster Meal," Mauritshuis Museum, The Hague; Miniature Queen Anne Clock by Henry Stockar, London c.1705; Chinese cloisonné Moon Flask, Ming dynasty, Jingtai mark (1450-1456), private collection; Chinese export lacquer Tea Chest c. 1840, private collection
A second Cortez painting in the Harmon-Meek exhibition pays homage to American impressionist painter Childe Hassam and U.S. veterans by incorporating Hassam's "Rainy Day, Fifth Avenue 1916" into her own stately work entitled, "Centennial."
Painting details: "Centennial" © by Jenness Cortez: acrylic on mahogany panel, 30 by 24 inches; Homage to: Childe Hassam (1859-1935) "Rainy Day, Fifth Avenue 1916" Collection of Princeton University, Princeton, New Jersey; Silver clock c.1900 by Archibald Knox for Liberty, Private collection;
100 year old Juniper Bonsai, Collection of Nippon Bonsai Association, Tokyo, Japan; "Uncle Sam" by James Montgomery Flagg, Private collection; Photo of New York City skyline, 1949, Photographer unknown; Photograph of reproduction of the Tri-wing Fokker piloted by The Red Baron, Photographer unknown; Portrait of "Major General the Earl of Athlong" by Sir Alfred Munnings, Collection of Windsor Castle; "Allies' Day, May 1917" by Childe Hassam, Collection of National Gallery of Art, Washington, DC
For centuries artists have been challenging their intellects and skills by paying homage to the painters who preceded them. Today, Jenness Cortez has emerged as the twenty-first century's most notable exponent of this facet of art history. Her masterful work gives Cortez solid footing in the colorful lineage of artists who have appropriated vintage images and woven them into their own distinctive, recognizable fabric.
Robert Yassin, former Executive Director of the Indianapolis Museum and Palos Verdes Art Center, refers to Cortez as one of the world's most eloquent and successful visual conversationalists. Yassin says that, "All art is a dialogue . . . In Cortez's paintings, each work talks to us at many levels, and creates in us a sense of both understanding and wellbeing. This happens because there is nothing arbitrary in Cortez's paintings. The choice of the painting reproduced, the elements surrounding it, the space the elements occupy, the lighting, the color, everything is carefully selected and orchestrated following a fully articulated plan determined by the artist." Yassin, who also served as director of Tucson Museum of Art during his illustrious career, freely confides that "the paintings of Jenness Cortez make my heart sing,"
In summarizing her creative process, Cortez explains, "Every painting begins with a vision seen in the artist's mind. Sometimes the finished piece appears in the mind full-blown, and at other times it is amorphous––yet with some beguiling character that begs to be developed. In either case, between that first inspiration and the finished painting lie hours of research, thousands of choices and, of course, the great joy of painting. The process is organic. Even with a well-conceived composition in place, the painting has a life of its own and the best ones surprise even the artist with twists and turns that outshine the most clever of plans. It's as if the creative spirit insinuates itself into the work, wanting to serve its own best interest with solutions that far exceed the artist's original, limited vision."
Each intricate Cortez creation challenges the viewers' intellectual curiosity and celebrates the sheer pleasure of beautiful painting. In her latest Harmon-Meek exhibition, Cortez plays author, architect, visual journalist, art historian, curator and pundit to help open our eyes to what we might otherwise have overlooked or taken for granted. Each painting presents a specific theme, mixing straightforward cues and obscure allusions, complemented by references to other artists' lives and times. By masterfully presenting iconic works of art in unexpected modern settings, Jenness Cortez truly inspires us to see differently––to rediscover, revalue and reintegrate our own intuitive resources into the hurried and often stress-filled culture of modern American.
Biographical Notes:
Jenness Cortez was born in 1944 in Frankfort, Indiana. She received her B.F.A. from the Herron School of Art in Indianapolis, apprenticed privately with noted Dutch painter Antonius Raemaekers and later studied with Arnold Blanch at the Art Students League of New York. Her work is in numerous public and private collections including those of Presidents Ronald Reagan and Bill Clinton, HM Queen Elizabeth, II, the New York State Museum and the Polk Museum of Art.
Since 1977, Perlmutter Gallery in Averill Park, New York has represented artist Jenness Cortez.