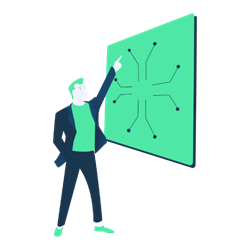 You must understand that a traditional banking environment is no different than a crypto banking environment. There is no difference from a crypto holder's perspective. But from the provider's perspective, there are far more things that need securing in the crypto world.
BOSTON (PRWEB) November 10, 2021
New security guide from CryptoExchangeReviews.com released today reveals surprising vulnerabilities unknowing investors can be exposed to resulting in crypto theft. This new comprehensive guide covers the greatest risks faced from 2fa fraud, storage vulnerabilities, browser security, and password hacking while providing actionable methods to combat the threats coupled with this emerging asset class.
Additional topics include asset, platform, and technology risks. The most common causes of crypto theft result from digital hygiene. High level protection methods include:

Hardware and software wallet storage. It's important not to store all your crypto in one or the other. Split it up as the technology behind each is different.
To handle platform risk easily, acquire 2 exchange accounts and split your investment between both. You can think the same thing about auto-compounding platforms like BlockFI, NEXO, and Celsius.
In many cases, your telephone number will reveal more information about you than your social security number. Protecting your phone is a top priority when investing in crypto.
Digital hygiene is a loaded concept that goes beyond just regular virus scans however, and in order to ensure you have a proper setup, you must focus first on passwords.
The information you use to log into your crypto wallet opens the vault and allows you to spend your crypto. This information must never get into the wrong hands because folks can spend your crypto without needing your permission.
Aside from having a proper email spam filter in place and perhaps enrolling in a phishing prevention program like mimecast or ironscales, the biggest and most important thing you can do is to turn off outside images in your email client.
Special attention focusing on 2FA reveals the following threats:

Your stored data at rest is the first attack surface. Hackers may attempt to hack your phone and steal your data / crypto directly from it.
Application - based 2FA is a secure, convenient way to perform a 2FA authentication, but it comes with a heftier price.
Physical device 2FA is supposed to be the best way to do 2FA - it's a physical device that plugs into the USB of your computer and does something similar to the app, but performs the process via hardware.
Email 2FA is another method used to retrieve the "code" to log into your site. It's the least safe, but it is still protection.
If you are safe from SIM swaps this is an easy and safe option to pick for 2FA via SMS.
Visit https://cryptoexchangereviews.com/guides/digital-security-in-the-crypto-age/ for the complete guide.
About CryptoExchangeReviews.com
Crypto Exchange Reviews is an online information portal launched earlier this year by an avid and experience crypto investor, bot trader, and miner dubbed "The Bot Guy." The platform provides guides for investors with any level of experience to help them understand the ins and outs of this emerging asset class. In addition to the guides there are other useful reviews of tools and exchanges to help people make informed decisions about where to buy cryptocurrencies and how to protect them from hackers.