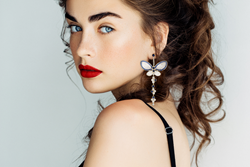 Crystsiva has launched a new jewelry line in the US, specializing in luxe crystal and fine pieces for everyday and special occasions
NEW YORK (PRWEB) July 30, 2020
Following its success in the UK, Crystsiva has launched a new jewelry line in the US, specializing in luxe crystal and fine pieces for everyday and special occasions. Crystsiva invites you to treat yourself to a bit of divinity with its goddess-themed seasonal collections, offering an on-trend, affordable selection.
Taking its cues from the goddesses themselves, each Crystsiva collection expresses that bold glamour is back, with a radiant design aesthetic that can be seen in every piece from the chandelier earrings, delicate pendant necklaces or fine rings - where metallic accents and precious gemstone features are the norm. Perfect to pair with sequins, silk camisoles or your go-to dress, Crystsiva allows you to top off any XL glamour look - even at home or for virtual entertaining. The Artemis summer collection naturally celebrates the sun with its golden range, while the soon-to-be released 'Pomona' fall collection draws on a rose gold palette to honor the Goddess of Orchards.
Crystsiva is crafted with the best crystals from around the world, plus hypoallergenic materials to cater for sensitive skin. These royal-esque accessories are a timeless finishing touch for any occasion - from date night to a virtual party or everyday admiration. They also make the perfect gifts for yourself and loved ones.
Crystsiva is available to purchase online at the Crystsiva website, as well as in-store at Flying Solo in NYC (420 Broadway location).
+++
For further information, imagery or sample requests, please contact:
Press: Sophie Coleman
Sales/ general enquiries: hello@crystsivacharms.com
About Crystsiva
Launched in 2019, Crystsiva (pronounced kris-dee-vuh) is a contemporary jewelry line curating the most unique crystal and gem-laden pieces from around the world. Crystsiva offers an array of outfit elevating designs, including statement earrings and cocktail rings through to delicate pendant necklaces. Inspired by goddess mythology, each collection weaves in a romantic aesthetic with metallic accents, precious gemstones and eye-catching embellishments. Crystsiva has been seen in Vogue UK, ELLE UK, Harper's Bazaar UK and GQ UK.
Website: https://www.crystsivacharms.com/
Instagram: @crystsivacharms
Facebook: https://www.facebook.com/Crystsiva/