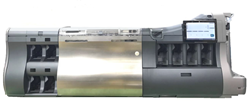 "The cost of cash management has increased considerably since COVID-19 arrived, and the Currency Disinfector makes disinfecting bills as fast and easy as using standard cash-counting equipment." – Greg Pilon
MONTEBELLO, Calif. (PRWEB) December 02, 2020
The Currency Disinfector is designed to eliminate pathogens from banknotes, including the novel coronavirus, through application of ultraviolet (UV-C) light. The product is designed for use in businesses that handle large volumes of cash, such as banks, casinos, large retailers, and amusement parks.
The Currency Disinfector can help reduce the spread of COVID-19 and other virus-based illnesses. UV radiation is highly effective in eliminating viruses from surfaces. However, both sides of every bill must be irradiated separately, making it impractical to disinfect the large quantities of notes typically processed by banks and large retail operations. The Currency Disinfector solves this problem by feeding 1000 bills per minute through a two-sided UV-C light scanning "tunnel," to thoroughly disinfect each individual bill quickly and effectively.
Socal Safe Company Executive Vice President Greg Pilon sees the Currency Disinfector as a game-changer for cash-management operations during the COVID-19 pandemic. "This is truly groundbreaking technology," said Pilon. "The cost of cash management has increased considerably since COVID-19 arrived, and the Currency Disinfector makes disinfecting bills as fast and easy as using standard cash-counting equipment. And it's not as if it'll be obsolete once COVID is behind us; the seasonal flu comes every year, like clockwork, and this technology will be instrumental in protecting the public health."
It will be available through the AccuCASH division of Socal Safe Company as of December 20, 2020.
**
For more than 100 years, Socal Safe Company has been setting the standard for strength, quality, and customer care in the security and cash-management industry. Since 1915, the company's goal has been to deliver premium service, with 100 percent customer satisfaction.
**
Tokyo-based Hitachi-Omron Terminal Solutions is a member of the Hitachi Group and a leading vendor of cash-management solutions worldwide. The company provides highly reliable ATMs and bank systems that address real user needs, supporting security and safety through its advanced technologies and innovative solutions.