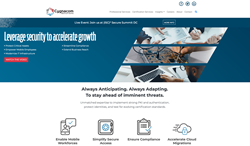 We want to help our clients see security as a business enabler to accelerate growth—rather than just an overhead cost.
MCLEAN, Va. (PRWEB) March 12, 2019
Cygnacom (http://www.cygnacom.com), a vanguard in cybersecurity consulting since 1994, has launched a new content-rich website to provide cybersecurity insights and easy access to its experts. Celebrating 25 years of delivering continuous security assurance for business, government and critical infrastructure, Cygnacom designed a fresh, modern website that reflects its role as a valuable resource to its clients.
"For decades our company has been working to overcome negative perceptions surrounding data security. We want to help our clients see security as a business enabler to accelerate growth—rather than just an overhead cost," said Peter Bello, president of Cygnacom. "With Cygnacom's new website, we're using education and our internal thought leaders to combat fear and coach visitors on the right technologies that protect identities, reputations and businesses."
Highlights of the new website include timely insights on the industry's most popular topics such as mobile-derived credentials, blockchain and IoT security. Visitors will also have access to the firm's experts and will enjoy a completely new user experience.
Cygnacom provides professional and certification services to a wide range of government agencies and businesses. Its clients and partners depend on the firm to implement strong authentication, protect information and identities, test for evolving certification standards and secure other high-value assets.
Cygnacom facilities were among the first to be accredited by the U.S. Department of Commerce, National Voluntary Laboratory Accreditation Program for the National Institute of Standards and Technology (NIST), and the National Information Assurance Partnership (NIAP)'s FIPS 140-2 and Common Criteria (ISO/IEC 15408) certification testing programs.
Visit cygnacom.com to experience the new website, learn more about the firm, read insights and connect with company experts.
ABOUT CYGNACOM
Cygnacom's legacy of leadership began in 1994, providing information security services and cryptographic solutions. The firm specialized in emerging Public Key Infrastructure technologies and designing and implementing some of the first PKI solutions for U.S. government and commercial clients. In 1994, Cygnacom partnered with Entrust, Inc. to provide professional services to support U.S. Federal, State and U.S.-based commercial PKI clients. In 2000, Cygnacom became a wholly-owned subsidiary of Entrust. In 2014, Entrust was acquired by Datacard, Inc. The parent company now operates as Entrust Datacard and Cygnacom continues to support its team, U.S. Federal customers and commercial customers with state-of-the-art information and cryptographic solutions in the challenging world of the 21st century.