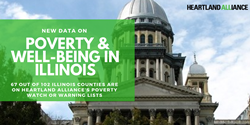 "The data we released today can help people working to making change in their communities understand the conditions on-the-ground and make better decisions about how to move the needle on poverty." Katie Buitrago Heartland Alliance Research Director
CHICAGO (PRWEB) July 09, 2019
The County Well-Being Index, created by the Social IMPACT Research Center, highlights counties that are experiencing particularly negative conditions and trends on four key indicators: poverty, unemployment, teen births, and high school graduation. The counties are evaluated using a point system, with a higher number of points indicating a worse score. A county receives a point if its rate is worse than the state average and/or if it has worsened since the previous year, for a total of 8 possible points.
Counties on the Poverty Watch list have a score of 4 or 5 and need to be monitored by local leadership, while counties on the Poverty Warning list have a score of 6, 7, or 8 and need to initiate corrective action (such as adequately funding education, quality job creation, and human services).
In addition to the County Well-Being Index, the Social IMPACT Research Center released county, Chicago metro area, and Chicago community area-level data on a broad range of indicators related to poverty and well-being. These indicators on poverty, rent burden, employment, vacancy, and more, are displayed through interactive maps or dashboards.
To demonstrate how the public, media, government entities, and non-profit service providers can use the data to understand local needs and help combat poverty. IMPACT will host a webinar on July 15th from 3:30 PM – 4:30 PM CDT.