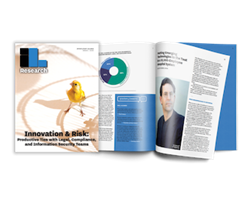 The report provides color commentary from innovation executives about when to rewrite the rules to enable organizations to develop new offerings more nimbly.
BOSTON (PRWEB) December 04, 2018
Nearly a quarter of innovation professionals (22 percent) feel they are not well-aligned with colleagues in compliance, legal and security roles, according to a survey published today by Innovation Leader, a fast-growing publishing and events company that helps the world's largest companies build competitive advantage.
Sponsored by Mastercard, the report, "Innovation & Risk: Productive Ties with Legal, Compliance, and Information Security Teams,"also revealed that almost one-third of respondents (31 percent) said that it can often be challenging to get sufficient resources to meet minimum security requirements.
"The innovators developing new products and services in big companies know that they need input from the security, legal, and compliance teams," said Scott Kirsner, CEO and editor-in-chief of Innovation Leader. "But our survey found that those resources are sometimes limited — which can slow down progress."
The survey aims to decode the formula for getting these two very different roles — each with fundamentally different goals — to work together productively. The report provides color commentary from innovation executives about when to rewrite the rules to enable organizations to develop new offerings more nimbly.
"At Mastercard, we believe in 'security by design' – building solutions with security at the forefront right from the development phase," says Ajay Bhalla, president, Cyber & Intelligence Solutions, Mastercard. "This thinking has enabled us to work closely with people across the enterprise to create solutions and best practices based on customer needs, pain points and opportunities. Innovation managers play a significant role by collaborating with security colleagues to foster this holistic mindset."
The survey was fielded in Q4 2018 and features data from 150 senior professionals working in innovation, strategy, and research and development roles at major corporations. The largest respondent clusters represented the consumer goods and products, financial services and insurance, technology, healthcare, pharmaceuticals and life sciences, and energy industries. To download an excerpt of the report, click here, or become an Innovation Leader member to access the full 53-page report.
This survey was part of Innovation Leader's series of quarterly research reports, which are regularly supported by strategic partners. In 2019, Innovation Leader plans to publish reports on topics including co-creation and ecosystem development; innovating for efficiency and cost savings; and remaking the R&D organization.
About Innovation Leader
Innovation Leader is a fast-growing publishing and events company with a laser focus on helping the world's largest companies thrive for 100 years to come. Since 2013, Innovation Leader has built the largest community of corporate innovation, strategy, and R&D executives in both public and private companies, helping these executives to strengthen their innovation programs; connect with useful resources, solutions, and vendors; and engage with peers inside innovative labs and workplaces around the globe. For more information about Innovation Leader membership and events, visit our website or follow us on Twitter (@innolead), LinkedIn, or Facebook.
About Mastercard
Mastercard is a technology company in the global payments industry. Our global payments processing network connects consumers, financial institutions, merchants, governments and businesses in more than 210 countries and territories. Mastercard products and solutions make everyday commerce activities – such as shopping, traveling, running a business and managing finances – easier, more secure and more efficient for everyone. Follow us on Twitter (@MastercardNews), join the discussion on the Beyond the Transaction Blog and subscribe for the latest news on the Engagement Bureau.