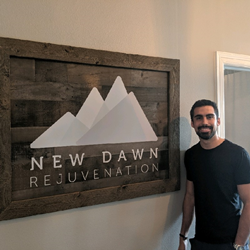 AUSTIN, Texas (PRWEB) September 01, 2020
New Dawn Rejuvenation, an Austin medical clinic that offers hair rejuvenation and sexual enhancement treatments for men and women, has reopened after a short closure due to the COVID-19 pandemic.
During the clinic's closure, the New Dawn Rejuvenation team went to work studying the latest research on COVID-19 transmission and recommendations from the Centers for Disease Control. With these guidelines in mind, the practice has implemented new safety protocols to protect the health of patients and staff alike. These protocols include:

More frequent disinfection of high-touch surfaces
Limiting the number of appointments per day to allow exam rooms to be sanitized between patients
Asking patients to self-screen and cancel appointments in the case of upper respiratory symptoms
Requesting that staff and patients abide by social distancing guidelines
Wearing personal protective equipment (PPE) when social distancing is not possible
Scheduling more appointments virtually to eliminate the need for in-person visits
The medical team at New Dawn Rejuvenation is following the coronavirus situation in Texas closely and prepared to change and adapt as needed, but for the time being, the clinic is offering its complete line-up of services for premature ejaculation, erectile dysfunction, Peyronie's disease, hair regrowth, muscle and tendon rejuvenation, and vaginal rejuvenation.
About New Dawn Rejuvenation
New Dawn Rejuvenation is focused on helping patients regain vitality and restore confidence through their advanced hair rejuvenation and sexual enhancement treatments. Dr. Joseph Feste and Kerri Thigpen APRN, ANP-C combine state-of-the-art solutions with compassionate care and decades of experience in the practice of functional and regenerative medicine. To learn more, visit https://www.newdawnrejuvenation.com/, call New Dawn Rejuvenation at 512-518-5149 or schedule an appointment at their Austin-area location: 211 Ranch Rd. 620 S, Suite 250, Lakeway, TX 78734.