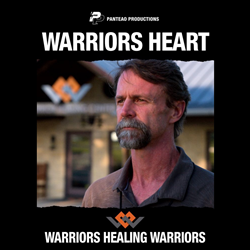 "Two decades & three presidents later, the war continues. For many, they gave their lives to protect the American people. For others, there was another price for that reckoning. This is their story." - Actor Max Martini ("13 Hours") in "Warriors Heart - Warriors Healing Warriors" film introduction
SAN ANTONIO (PRWEB) April 19, 2021
Warriors Heart and Panteao Productions announce the official release of their new documentary film: "Warriors Heart – Warriors Healing Warriors" (April 2021) on Amazon Prime Video in sync with Warriors Heart's 5-Year Anniversary and 1500+ "Sober, Confident Warriors" completing their training program. This inspiring 60-minute "special interest, documentary" features the journey of U.S. Army Delta Operator Tom Spooner, along with his Warriors Heart CoFounders Josh and Lisa Lannon and their bold vision to "bring 1 million warriors home."
Warriors Heart Foundation Honorary Board of Advisors Member and Actor Max Martini ("13 Hours", "Captain Phillips" and "Sgt Will Gardner") introduces the film with a powerful voiceover and reminder. Martini recounts how September 11, 2001, was a major turning point for America. Afterwards, many warriors were called to fight "a global war on terror," while first responders continued to protect everyone at home. Martini emphasizes, "Two decades and three presidents later, the war continues. For many, they gave their lives to protect the American people. For others, there was another price for that reckoning. This is their story."
To provide holistic healing solutions and reduce the alarming veteran and first responder suicide rates, the three Warriors Heart founders opened the first and only private and accredited treatment center in the U.S. in April 2016, for the Warrior class. It is a 42-day Warriors Heart training program exclusive for warriors (active duty military, veterans, all law enforcement, firefighters, first responders, EMTs/Paramedics) struggling with substance abuse and co-occurring issues (PTSD, TBI, trauma and more.) Located on a 543-acre ranch in Bandera, Texas (outside San Antonio), Warriors Heart provides a "training program" approach to help protectors heal and rebuild their lives with peers without feeling any shame. It is changing the narrative to "Strength Through Healing."
This film highlights three moving long-term recovery stories of veterans, along with combat videos, news clips, and very personal interviews with Warriors Heart team members who welcome warriors "Home" with the dignity and respect that they deserve and have earned.
Viewers will be drawn in to this documentary watching stories about overcoming addiction, TBI, PTSD and emotional wounds by:

Tom Spooner (Former Special Forces & Warriors Heart Founder) and his Special Operations Teammate Jamie Caldwell
Teddy Lanier (Former Green Beret & Warriors Heart Alumni & Warriors Heart Foundation Executive Director)
Mike O'Dell (Former U.S. Marine Veteran & Warriors Heart Admission Advocate Team Leader)
Warriors Heart Founder CEO Josh and his wife and Co-Founder Lisa Lannon also discuss their personal WHY for starting their first addiction treatment center in Utah after Josh got sober in 2001. While Josh was running award-winning nightclubs in Las Vegas, Lisa was a LVMPD Law Enforcement Officer, who gave Josh an ultimatum to get sober or else the marriage was over. Josh reflects in the film; "It was the lifeline that I needed." And then, you learn how the Lannons met Spooner and built Warriors Heart to provide warriors with a secure and safe environment to heal with their peers who know what it's like to put their life on the line every day for work.
Director and Panteao Productions CEO/President Fernando T. Coelho reflected on his WHY for making this film, "I have known Tom Spooner for a long time and feel that what he is doing with Warriors Heart is important. I've wanted to find a way to help Warriors Heart spread the word about what they do and what they offer. It had to be in a manner that would reach the most amount of people so that those that need help will know where to seek it. Creating a documentary about Warriors Heart was the answer, and I am very proud that we were able to do it. Now it's my hope that people watching it will share it with their family and friends so that in the end those that need help can make that phone call and go to Warriors Heart."
Throughout this entire Warriors Heart documentary, the "Warriors Healing Warriors" culture is really the central character. The clinician team's dedication and compassion, the art made by clients in the Wood Shop and Metal Shop, the K9 Programs, the culinary training program, everyone's focus on the creation of sober, confident warriors, and the entire team's personal connections to the warrior community make Warriors Heart a unique and special place.
WHERE TO WATCH on Amazon:
Warriors Heart – Warriors Healing Warriors – Film
https://www.warriorsheart.com/documentary
To get involved and support the Warriors Heart community, share
with #WarriorsHeart #WarriorsHealingWarriors #SoberConfidentWarriors
and/or visit https://www.warriorsheart.com/
MEDIA CONTACT for Warriors Heart:
Liz Kelly: 310-987-7207
ABOUT
PANTEAO PRODUCTIONS (Columbia, South Carolina) offers instructional videos taught by the world's most experienced and highly regarded instructors from the tactical and self-defense community. Their content is available on DVD, in SD and HD digital downloads, and streaming to subscribers. No one else delivers this much content from so many vetted and proven instructors all in one place. https://panteao.com/about-us/
WARRIORS HEART (Bandera, Texas near San Antonio) is the first and only private accredited treatment program in the U.S. exclusively for "warriors" (active duty military, veterans, all law enforcement, firefighters, first responders and EMTs/Paramedics) faced with the self-medicating struggles of alcohol addiction, prescription and drug addiction, PTSD (post-traumatic stress disorder), mild TBI (Traumatic Brain Injury) and other co-occurring issues in a private, 60-bed facility on a 543-acre ranch. Along with a minimum 42-day peer-to-peer residential treatment program, Warriors Heart gives "warriors" the option of Detox, Day Treatment, Intensive Outpatient Program (IOP), Sober Living (60-day minimum) and Aftercare. Warriors Heart's work has been featured on the TODAY Show, CBS Health Watch, FOX 11 Los Angeles, National Defense Radio Show and in TIME, Forbes, The Chicago Tribune, Addiction Pro magazine, San Antonio Business Journal and many more. There is a 24-hour Warriors Heart hotline (844-448-2567) answered by warriors. https://www.warriorsheart.com/