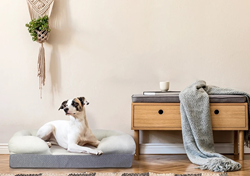 We love the special bond between families and their pets. The Puffy Dog Bed allows much-loved dogs to enjoy luxurious comfort and support just like their owners. We designed the Dog Bed not only to suit the natural sleeping behavior of dogs but also to fit any home decor with style
NORTH HOLLYWOOD, Calif. (PRWEB) January 30, 2020
Puffy, creator's of America's Most Comfortable Mattress, has today announced the anticipated release of The Puffy Dog Bed, a luxuriously supportive and comfortable bed for dogs of all sizes.
As the latest addition to Puffy's rapidly expanding range of mattresses and bedroom furniture, The Puffy Dog bed is positioned to ensure all members of the house can achieve optimal sleep.
Since bursting into the mattress scene, Puffy has quickly positioned itself as the brand customers turn to for the perfect synergy of life-changing sleep and unbelievable comfort.
The Puffy Dog Bed is no exception. Like humans, dogs endure strenuous pressure on muscles and joints throughout the day. Providing a quality dog bed for pets reduces irritability and facilitates the development of healthy sleep habits.
The Puffy Dog Bed is designed to support recovery during rest and sleep periods, as well as add style and substance to the home.

Supporting rest and recovery - a high-density 100% memory foam base relieves weight pressure so active dogs can recover.
Scratch-resistant cover - finished with an anti-tear and scratch-resistant 100% polyester and microfiber cover, the dog bed is designed to last.
Cooling dog bed - like humans, dogs can experience sleep disruption due to temperature fluctuations. This memory foam dog bed is designed to be highly breathable.
Contemporary style - light gray and beige tones will suit any home decor design scheme seamlessly.
Zip and wash cover - stains and smells are a breeze to manage - simply unzip and wash the Puffy Dog Bed cover in the washing machine.
To help dogs feel safe and secure, the Puffy Dog Bed features soft foam sidewalls perfect for nestling and assisting with spinal alignment.
While humans sleep for up to one-third of life, many dogs spend up to half a lifetime sleeping. A cozy and supportive sleeping space empowers the health and well being of canine friends, increasing mood and agility.
"We love the special bond between families and their pets. The Puffy Dog Bed allows much-loved dogs to enjoy luxurious comfort and support just like their owners. We designed the Dog Bed not only to suit the natural sleeping behavior of dogs but also to fit any home decor with style," said Arthur Andreasyan, CEO at Puffy.
Available in three sizes, the luxury memory foam dog bed suits small, medium, and large dogs. Like all products in Puffy's range of mattresses, bedding, and bedroom decor, the Dog Bed can be purchased with a risk-free 101 Night Sleep-Trial, free shipping, and is backed by a Lifetime Warranty.
The Puffy Dog Bed can be purchased now on puffy.com.
###
About Puffy
Puffy is a California-based company committed to developing total bedroom solutions to help customers achieve optimal sleep health. The company was founded on the idea of creating mattresses and bedroom products that feel like sleeping on a cloud. Puffy has been featured on The Ellen Show, The Talk, and was recently awarded Best Mattress of 2020. Puffy sells all products direct-to-consumers online. For more information visit https://puffy.com.