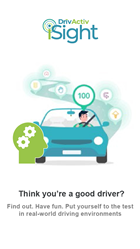 "DrivActiv iSight will be quickly recognized as a game-changer for fleet and safety professionals. Besides providing a highly sophisticated technology platform, it is unquestionably the lowest cost telematics safety service in North America." -- Art Liggio, CEO and President of Driving Dynamics
NEWARK, Del. (PRWEB) April 01, 2020
Driving Dynamics Inc., a provider of advanced driver safety training, coaching and risk services for organizations that operate vehicle-fleets in North America and around the globe announced the launch of DrivActiv iSight™, the latest product under the company's DrivActiv™ digital safety and risk services brand. It is a cost-effective, fleet risk and safety telematics service focused on real-time driving awareness and improvement.
This application, produced in conjunction with its development partner, DriveSmart, is a time-tested technology platform downloaded by more than 250,000 users. Using smartphone technology, it tracks and analyzes behaviors behind the wheel and enables fleet operators to identify trends, promote desired habits and skills, and monitor progress. To maximize objective self-assessment, drivers have access to personalized trip metrics and feedback.
The service features:

Daily performance scorecards—Based on six key dimensions: speeding, acceleration, braking, cornering, anticipation and eco-driving.
Behavioral-based feedback—Tailored to a driver's performance, coaching push-notifications reinforce positive driving attributes and address poor habits.
Targeted microlearning videos—Pushed out regularly, drivers receive relevant, informative four-to-five-minute safety tips delivered through the application.
Administrative reporting dashboard—Access to analytics including individual and fleet performance summary, trends, incidents and trip monitoring.
Safe driving badges—Validate skills and demonstrate commitment to safety.
Driving Dynamics offers DrivActiv iSight as a standalone subscription-based service or as part of bundled behind-the-wheel and online training packages. The application is compatible with iOS and Android devices and fleet drivers are able to download it from Google Play or the Apple stores with a password provided by their employer.
"Taking advantage of smartphone devices, our application combines the power of telematics with driver safety," said Art Liggio, CEO and president of Driving Dynamics. "DrivActiv iSight will be quickly recognized and valued as a game-changer for fleet and safety professionals. Besides providing a highly sophisticated technology platform, it is unquestionably the lowest cost telematics safety service in North America. Budget constraints will no longer be an issue. It will help reduce crash rates, create self-aware drivers and develop a strong safety partnership. Focused on innovation, we strive to continuously offer fleets services that are relevant, easy to implement and most importantly, ones that will help organizations achieve their fleet safety goals."
Click here to request more information and to inquire about a trial subscription.
About Driving Dynamics Inc.
Driving Dynamics provides advanced performance driver and safety training and fleet risk management services throughout North America. In business for more than 30 years, its behind-the-wheel, e-learning, classroom and simulator training and driver risk programs are based on sound research, proven learning methodologies and expert instruction.
Headquartered in Newark, Delaware, Driving Dynamics has earned its position as an accomplished provider of impactful driver training. In 2017, 2018 and 2019 it was named as Top-20 Safety & Health Company by Training Industry Inc. Through its business lines the company offers services for fleet professionals and drivers of passenger cars through commercial motor vehicles.

DriverAdvantage™—light-medium duty behind-the-wheel
Center for Transportation Safety™—commercial motor vehicle driver training
DrīvActiv™—digital driver training and risk services
For more information visit http://www.drivingdynamics.com.
About DriveSmart
DriveSmart is a pioneering technology platform and leading provider of driver monitoring, data analysis and telematics in both the automobile and mobility insurance industries. Founded in 2014, DriveSmart combines the biggest data science challenges with artificial intelligence. Its goal is to make the world's roads safer, while helping the commercial mobility industry make strategic decisions.
Drivesmart's Mobility Data Lab, a factory for developing solutions for the present and the future, responds to the needs of a wide range of current and future sectors (government, insurance, systems and infrastructure of intelligent transport, fleets, new mobility and shared economy, among others).