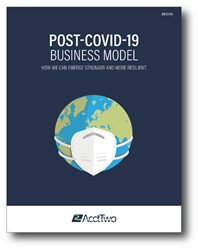 COVID-19 has taught accounting professionals that embracing the technological changes brought on by what many are calling the 'digital transformation' of the past 20 years is a key to survival and is no longer optional.
HOUSTON (PRWEB) December 04, 2020
The cloud accounting and finance experts at AcctTwo announced the launch of their new eBook to educate finance and business leaders on the steps to take to emerge stronger from the current disruptions resulting from the pandemic.
The AcctTwo eBook, entitled "Post-COVID-19 Business Model: How We Can Emerge Stronger and More Resilient," was created to educate business and finance leaders that it's essential to embrace and deploy business continuity planning. The new eBook details the five main steps that are essential to be able to maintain operations and growth even when outlooks are uncertain.
AcctTwo's business continuity planning eBook has several chapters outlining best practices, including:

First, the Basic Block and Tackling
Digital Transformation
What-if Scenario Modeling
Re-Examine Your Business Model
Transitioning to a Recurring Revenue Model
Here is an excerpt from the eBook:
Take, for example, the area of enterprise software. Businesses and accounting departments that moved to a multi-tenant, cloud-based, customer relationship management system, and a similar accounting and financial management system didn't have to worry about not having access to a data center. They don't have a data center. They didn't have to worry about getting into their offices to access workstations that have critical accounting software running on them, because they can log in from home, or on their phones (or any other device), anytime they need to. Add to that the ability to create virtual teams by leveraging technologies like Microsoft Teams, Zoom, GoToMeeting and Slack, and you have an accounting workforce that can fall back to working from home on almost a moment's notice.
There's something to be said for avoiding the "bleeding edge" of technology, but the COVID-19 experience suggests that being in the late majority or a laggard is not actually the lowest-risk strategy for technology adoption. A strong argument can be made that one should adopt new technologies just as soon as is feasible for the organization.
Companies should also make sure their digital transformation goes the "last mile." I've seen many organizations implement 100 percent cloud-based accounting software applications but still have "pockets of analog" in various places that become stumbling blocks when you need to live in a 100 percent virtual world.
"COVID-19 has taught accounting professionals that embracing the technological changes brought on by what many are calling the 'digital transformation' of the past 20 years is a key to survival and is no longer optional. Accounting departments, traditionally seen as more conservative and risk-averse, rather than as drivers of transformation, need to become catalysts and agents of change in the digital era," said AcctTwo Founder and CEO Marcus Wagner.
"We uniquely understand the organizational resilience required when abrupt change tests our people, our systems, and our processes. At AcctTwo, we have an almost 100% paperless work environment, with 100% cloud-based applications. We were tested and, fortunately, haven't missed a beat in being able to serve our customers, pay our vendors, and collaborate with our employees, and we endeavor to provide this business continuity planning to other organizations so they can bounce back quickly too," added Wagner.
The full eBook is available to download here: https://www.accttwo.com/post-covid-19-business-continuity
About AcctTwo
AcctTwo is focused on delivering the future of finance and accounting to its customers. AcctTwo has three main solutions – Cloud Accounting Software, Managed Accounting Services, and Software Development, powered by the only accounting software that is AICPA endorsed. Our dedicated team of over 100 people has helped nearly 1,000 organizations through their digital transformation with software implementations, accounting outsourcing, and consulting. AcctTwo has been named to the Inc. 5000 list four times and is Sage Intacct's 7-time Partner of the Year. AcctTwo has been recognized by our customers as a leader in overall satisfaction and popularity through their reviews on G2.
AcctTwo is headquartered in Houston, Texas. For more information about accounting solutions, please visit https://www.accttwo.com or call 713-744-8400.