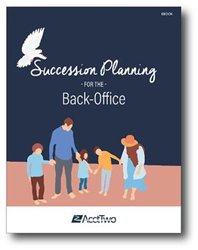 The urgency of succession planning in the back office cannot be overstated in order for church leaders to protect their organizations. You'll find a checklist in our eBook that explains not only why you should undertake succession planning, but what to do, how, and in what order.
HOUSTON (PRWEB) November 05, 2020
Church and nonprofit accounting experts, AcctTwo, have announced a new eBook to help church leaders understand the impact and how to prevent the chaos that inevitably occurs when nonprofit succession planning for the back-office is overlooked.
The AcctTwo eBook, entitled "Succession Planning for the Back-Office," was designed to educate nonprofit and faith-based leaders that it's essential to have a backup for every role in finance and accounting. For example, the eBook details the cascading, negative impacts of an abrupt loss of mission-critical accounting staff, in this case a church's CFO, and how that can affect not just finance, but also other areas of the organization.
The succession planning eBook covers several topics outlining succession planning best practices, including The Purpose of Succession Planning, The Importance of Good Leadership, Culture Really Matters, What You Need to Know About Hiring Millennials, Hiring from Within, Succession Planning for the Back-Office, Red Flags to Watch Out For, and What's Next.
Here is an excerpt from the eBook:

CFOs are very important – they tend to be the connector between the financial health of the organization and the Senior Leadership (Head Pastor, CEO, President, etc.). Having the right person in this role is essential to the leadership team and growth of the organization. Often, the CFO / Finance Leadership reports to the board / elders.
Your CFO should have an ongoing succession plan, however senior finance roles aren't getting the attention that they deserve. "Finance and accounting roles are often overlooked for succession planning. However, they are mission critical to running the organization. At Concord Church, we are working hard to make sure that every role has a backup. I know it isn't possible for every organization to employ or train a backup for every person, in those cases build a relationship with a third-party organization, such as an accounting resource, legal firm, IT provider, etc. If something happened to me, I know that our accounting partner, AcctTwo, could easily step in and keep the show running," said Tammy Bunting, CFO at Concord Church. 
"Talking to so many experts and colleagues has given me deep insight into what a solid succession plan looks like, and it is true: if you fail to plan, you plan to fail. One of the most concerning predictions came from Todd Clark at Slingshot Group who stated that we'll see leaders retiring in their 40s or early 50s because leading through COVID-19 has been the equivalent of 10 years' of stress," said AcctTwo Nonprofit and Faith-Based Vertical Leader Allison Webb.
"The urgency of succession planning cannot be overstated, which is why we developed this eBook. It was important to us to get resources in the hands of church leaders so they know how to protect their organizations. You'll find a checklist in our eBook that explains not only why you should undertake succession planning, but what to do, how, and in what order," said AcctTwo CEO and Founder Marcus Wagner.
"For example, when you start to think about succession planning, the first step is to look at your current team. Decide if you have the right person in place and will they be developed in time or should you start considering hiring externally before it's too late? In recruiting we see this often – people wait until the person is about to leave to start the transition, but when you wait too long, they don't have time to build rapport, learn the organization, and sometimes you don't realize they aren't a fit until it's too late. The most successful transitions were when someone was hired 1-2 years before it was necessary and were part of building up the team to manage the change," Wagner said.
The full eBook is available to download here: https://www.accttwo.com/nonprofit-succession-planning-for-the-back-office
About AcctTwo
AcctTwo is focused on delivering the future of finance and accounting to its customers. AcctTwo has three main solutions – Cloud Accounting Software, Managed Accounting Services, and Software Development, powered by the only church accounting software that is AICPA endorsed. Our dedicated team of over 100 people has helped nearly 1,000 organizations through their digital transformation with software implementations, accounting outsourcing, and consulting. AcctTwo has been recognized by our customers as a leader in overall satisfaction and popularity through their reviews on G2. AcctTwo is Sage Intacct's #1 partner and Partner of the Year from 2014 – 2019.
AcctTwo is headquartered in Houston, Texas. For more information, please visit https://www.accttwo.com or call 713-744-8400.