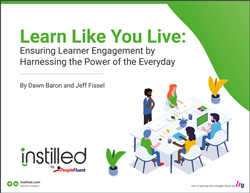 I feel like this ebook offers learning professionals a glimpse of our overall philosophy. This is a journey that the Instilled team has been on too.
RALEIGH, N.C. (PRWEB) March 04, 2020
The team behind Instilled, the easy-to-use, structured corporate Learning Experience Platform (LXP) from PeopleFluent, has published a new ebook exploring why you should 'Learn Like You Live.' By examining the effects technology, entertainment and communication are having on learner psychology and expectations, the ebook suggests several training and measurement strategies to follow.
The ebook includes four chapters, covering:

How we live,
How we learn,
How we train,
And how we measure.
Through these insights, it addresses the inevitability of a new generation of platforms focussed on learner experience. LXPs are exploiting our app and device preferences to deliver corporate learning in more appealing formats than we have encountered before now.
"By taking a 'big picture' view of the world we live in, we can learn how everyday habits are shaping employee expectations, while mining these trends for the ideas that increase the effectiveness of our learning projects," said Dawn Baron, Product Marketing Manager at Instilled and the ebook's co-author. "I feel like this ebook offers learning professionals a glimpse of our overall philosophy. This is a journey that the Instilled team has been on too—our goal is to continue to incorporate only the best ideas and approaches inspired by everyday life and trialed in corporate learning in order to create an LXP that allows you to truly 'learn like you live.'"
When reading the full ebook, you will discover:

How we live: this section looks at statistical evidence and trends in current entertainment and communication, as enabled by mobile-first living. For example: according to a 2019 study, Americans check their phones once every ten minutes, or 96 times per day.
How we learn: a combination of rising prospective employee expectations and changing generational habits guarantee great shifts in corporate learning. Accordingly, LinkedIn Learning has found that 74% of talent developers plan to make changes to their learning programs to accommodate Gen Z, the newest generation currently entering the workforce.
How we train: Instilled's experts explore 11 recommendations that will help you to build learning programs that drive continuous engagement. Strategies include using video, SMEs, microlearning and interactivity while ensuring content is accessible, sharable and no more than two clicks away from being consumed.
How we measure: Examine how data can help organizations move away from a purely prescriptive approach to corporate learning. This chapter looks at how to use data to learn what engages users and build upon that knowledge.
Click here to download a copy of 'Learn Like You Live: Ensuring Learner Engagement by Harnessing the Power of the Everyday'.
ENDS
About Instilled by PeopleFluent
Instilled is an easy-to-use, structured corporate Learning Experience Platform (LXP) that supports a modern learning culture. The platform leads learners to the right content— created by subject matter experts and peer groups—without distractions. Instilled draws on nearly 20 years of experience providing learning consulting and technologies for authoring, delivery, and analytics. Instilled combines award-winning technologies within Learning Technologies Group into one efficient learning experience platform.
For more, visit instilled.com.
About PeopleFluent
As a market leader in integrated talent management and learning solutions, PeopleFluent helps companies hire, develop, reward, and advance a skilled and motivated workforce. Deployed separately or as a suite, our software spans recruitment, performance, compensation, succession, and learning—tailored for either large or mid-enterprise organizations. We deliver unmatched functionality and flexibility, recognized by leading analysts, to develop people, drive performance and deliver results.
Our talent solutions unify talent processes within a collaborative experience that enables HR and L&D teams to guide managers and employees with contextual learning—right in the flow of work.
A part of Learning Technologies Group plc (LTG), PeopleFluent provides world-class service and an unparalleled ecosystem of partners to optimize employee experience, employer brand, and business results.
For more, visit peoplefluent.com.