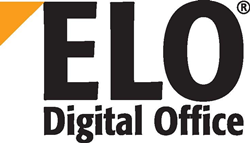 ELO ECM Suite 20 meets the evolving information management needs of all size businesses and industries worldwide.
BOSTON (PRWEB) March 04, 2020
ELO Digital Office USA, enabling businesses to improve collaboration and digitize information management, announced that it will preview the latest version of the ELO ECM Suite – version 20 at leading industry conferences this week: ChannelPro SMB Forum in Dallas (March 4-5; Hyatt Regency North Dallas, TX); and the Professional Insurance Agents (PIA) Convention – Booth #21 ( March 5-6; Foxwoods Resort, CT). General availability for the new ELO ECM Suite is scheduled for May 2020.
New Performance for a New Decade of ECM
Continually advancing to meet the evolving information management needs of all size businesses and industries worldwide, the ELO ECM Suite 20 reflects major enhancements in areas of usability, performance, and integration with third-party applications and systems. Key new features include:

redesigned user interface with new clients for greater ease of use;
increased server performance of up to 20% improves responsiveness (installation dependent);
optimized repository encryption and monitoring for heightened data security;
advanced system health check service that and quickly reports irregularities or errors; and
improved server-side replication making it easy for users in different locations to automatically exchange and synchronize data between repositories.
Creating a seamless information management experience is integral to version 20, which also features a new integrated desktop client that displays as a sidebar in the Windows interface providing all the benefits of an ECM system within the Microsoft environment and applications. And, with improvements made to the ELO Integration Client, the ELO ECM Suite now integrates with virtually all third-party systems and solutions based on iframe.
"We are thrilled to give the ChannelPro community and professional insurance agents attending PIA a preview of our new ELO ECM 20," said Szilvia Horvath, CEO of ELO Digital Office USA. "Our ECM solutions are continually adapting to real-life user requirements and ELO 20 demonstrates that commitment. Moreover, it strengthens capabilities for business growth and competitiveness while making life a lot easier for people by streamlining their business processes and information management."
Editorial Note: To schedule ELO USA briefings at ChannelPro Forum Dallas or the PIA Convention, email – pr-usa@elo.com.
About ELO Digital Office USA
ELO Digital Office USA provides innovative digital content management solutions for organizations of all sizes and industries throughout the United States. ELOoffice, ELOprofessional, and ELOenterprise give businesses an electronic and secure way to easily capture, archive, and manage business documents and information – both paper-based and digital. A subsidiary of ELO Digital Office GmbH (founded in 1998), ELO USA is headquartered in Boston, MA and is part of a network of global ELO offices throughout Asia, Australia, Europe, and North and South America. Visit ELO USA. Follow us on LinkedIn and Twitter.
All product and service names mentioned herein are the trademarks of their respective owners.