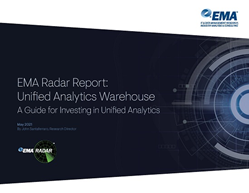 The race for the convergence of the data warehouse and the data lake is raging.
BOULDER, Colo. (PRWEB) May 26, 2021
Enterprise Management Associates (EMA), a leading IT and data management research and consulting firm, today announced the release of its newest EMA Radar Report, titled "Unified Analytics Warehouse – A Guide for Investing in Unified Analytics." Created to assist analytics buyers in selecting the right solutions for their specific needs, EMA identifies the leading vendors in this space based on key criteria defined by EMA research director, John Santaferraro.
"The race for the convergence of the data warehouse and the data lake is raging," said Santaferraro. "With vendors approaching this convergence from four different directions and millions of dollars being spent on marketing, there is much confusion about which direction is best for each organization. Our extensive data gathering, vendor dialogues, and customer interviews have brought a new level of clarity to the UAW market."
To assist analytics buyers looking to reduce cost and complexity, EMA evaluated 12 vendors providing UAW solutions. Any of the 12 vendors represented in the report might be the best choice for an organization depending on the tools and solutions they currently have, their level of analytical and organizational maturity, their direction and vision, and their current mix of technologies.
The following criteria were used for market inclusion:

Expansion toward the inclusion of multi-structured and multi-latency data
Broadening of analytical use cases to support both data science and data analyst workloads
Unification of multiple data management and analytical capabilities into a single, unified offering
Support for hybrid and multi-cloud deployments with some consistency across diverse deployments
Abstraction or automation of complex data management processes to speed and simplify insight delivery
Strong support for enterprise and regulatory requirements for data and analytics
Potential use as a strategic investment that may assimilate or consolidate multiple analytical technology investments
A detailed, comparative study of solutions from the following vendors is provided in the report:
1. Ahana
2. Databricks
3. Dremio
4. Google
5. HPE
6. Incorta
7. Isima
8. Kyligence
9. SAP
10. Starburst
11. Teradata
12. Vertica
The objective of the Radar was not to pick a single winner, but instead, to provide organizations with use case descriptions relevant to purchase. The three use cases evaluated were:

Hyperperformance and enterprise readiness. The first use case focuses on high-performance analytics with a complete and proven set of enterprise capabilities. Leaders in this category typically leverage database products with years of performance tuning and a long history of enterprise customers.
Analytical flexibility and low latency. The second use case focuses on extreme flexibility for multiple analytical use cases, including multi-structured data and multi-latency analytics. Leaders in this category typically utilize new memory technology and open data storage to enable a "store once, analyze many" architecture.
Hyperscale and platform leverage. The third use case focuses on maximum scalability and the seamless leverage of existing and low-cost data storage options. Leaders in this category tend to completely separate analytical computing from storage with a focus on extreme, in-memory analytical processing to scale for queries across multiple data sources.
The unified analytics warehouse can and should be transformative in enabling intelligent digital business models and providing a competitive advantage against companies stuck in more siloed environments. This report answers many questions organizations are asking about their next analytical platform purchase. The report goes on to raise many questions buyers have not yet thought to ask.
A detailed analysis of the research findings is available in the report, "EMA Radar Report: Unified Analytics Warehouse – A Guide for Investing in Unified Analytics."
About the EMA Radar Report
The EMA Radar Report delivers an in-depth analysis of industry-leading vendors and vendor products, including their overall market position in comparison with other vendors. This information is laid out in an easy-to-decipher, detailed Radar Chart, making it simple to see how vendors measure up in the market, as well as against other vendors. The EMA Radar Report also provides a detailed discussion of methodology and criteria, a high-level market segment overview, and a comprehensive analyst write-up on each vendor.
About EMA
Founded in 1996, EMA is a leading industry analyst firm that specializes in providing deep insight across the full spectrum of IT and data management technologies. EMA analysts leverage a unique combination of practical experience, insight into industry best practices, and in-depth knowledge of current and planned vendor solutions to help their clients achieve their goals. Learn more about EMA research, analysis, and consulting services for enterprise line of business users, IT professionals, and IT vendors at http://www.enterprisemanagement.com.