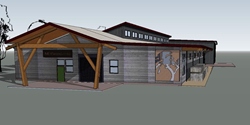 The CLT panels are pre-designed and highly engineered, of superior quality with precise tolerances that reduce infiltration of outside air, allow extremely efficient raising time, and leave little to no waste on-site
Farmington, NY (PRWEB) January 14, 2017
Beginning on January 23, 2017 New Energy Works Timberframers will raise the first complete Cross Laminated Timber (CLT) building in New York State. New Energy Works is combining the strength of timber frame construction and CLT panels cutting the wake for New York State in this innovative construction method with their campus expansion. The public is welcome to view the raising on January 25 and 26, 2017.
CLT construction is an economically and environmentally conscious alternative to steel and concrete construction, a material that is new to the U.S. building industry. "We see CLTs as the wave of the future and are investing in our Western New York campus to better position the region and our industry to ride the wave," states Jonathan Orpin, New Energy Works Founder and President.
The raising will begin the week of January 23, 2017 and is estimated to run 3 weeks from start to completion of the 21,000 sq ft building's enclosure. Both the walls and roof of the new building will be constructed with CLT panels. CLTs are large wooden panels, typically consisting of 3, 5, or 7 layers of dimensional lumber, oriented at right angles, glued together. The panels will average 8 feet tall and 38 feet long at 3 ¼ and 3 ¾ inch thickness. Using a crane, the panels will be lifted into place and fitted by hand to the supporting timber frame. Each CLT panel has a shiplap edge that will nest the panels together and be secured with metal fasteners.
The environmental and building efficiencies of CLT construction align with New Energy Works people and planet ethos. "The CLT panels are pre-designed and highly engineered, of superior quality with precise tolerances – all specific processes that reduce infiltration of outside air, allow extremely efficient raising time, and leave little to no waste on-site," explains Oprin. Tight tolerances and reduced air infiltration results in minimal heating and cooling losses, lowering the energy consumption of the completed building.
CLT panels offer other ecological advantages. Wood is a naturally occurring and renewable resource which stores carbon. "It is one of the best materials available for reducing greenhouse emissions," explains Orpin. 1M cubed of wood stores 1 ton of CO2 and processing the wood to produce the panels takes significantly less energy and resources in comparison to concrete and steel. Additionally, the CLT panels New Energy Works is utilizing are made from wood harvested from sustainably managed forests; from small trees and wood pieces otherwise underutilized.
For more information and details on the schedule of events, contact megan(at)newenergyworks(dot)com
New Energy Works designs and builds environmentally responsible timber frames across the USA from their New York and Oregon facilities. The company offers Timber Framing (design, engineering, manufacturing, build), Enclosure Systems, Fine Woodworking, Recycled and Sustainable wood products. New Energy Works has LEED AP staff members, is a member of the U.S. Green Building Council, and is FSC Certified.