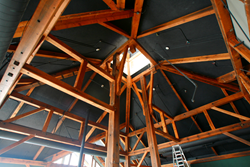 This is the third structure the Douglas fir timbers will serve. What an inspiring reuse of materials by Mike and team at Point of the Bluff Vineyards.
Farmington, NY (PRWEB) February 28, 2014
Situated on the northern shore of Canandaigua Lake, Steamboat Landing's Cove Restaurant was designed as a timber frame, crafted from reclaimed Douglas fir timbers originally part of the circa 1900's Welland Canal. New Energy Works Timberframers crafted and raised the restaurant's frame nearly 15 years ago. Steamboat Landing is being repurposed and this week New Energy Works master timber framers are dismantling the frame, which will find new life as a winery on Keuka Lake.
"We're very excited to salvage this frame. The timbers were once part of an old canal lock prior to being reclaimed and re-crafted for the restaurant frame. To see them continue to have a purpose, now with Point of the Bluff Vineyards, is a best case scenario," said Brian Mosch, General Manager of New Energy Works.
The new tasting room and vineyard headquarters will be raised on Keuka Lake near Hammondsport, New York in early Spring. "This was a great opportunity for us, not only because of the beauty and ambiance of the frame, but to be able to use some of the history from the Finger Lakes region," said Mike Countryman, General Manager/Winemaker, Point of the Bluff Vineyards.
The same timber frame craftsmen who worked on the Cove Restaurant frame several years back are now dismantling it and will be re-raising their past project. "It is a testament to the durability and build quality of timber framing as a construction method that this project is even possible," continued Mosch. New Energy Works sourced the reclaimed timbers used in the frame through their sister company, Pioneer Millworks. Pioneer Millworks offers a brief history on the Douglas fir:
'The falls and rapids of the Niagara River presented a major obstacle for an uninterrupted waterway from the Atlantic Ocean to the American heartland. To circumvent the river, the Welland Canal, with its eight large locks, was built. Initiated by local businessmen, the first canal was built in 1829 in Niagara, Ontario. During renovations of the third canal in 1927, Douglas fir timbers were installed in Lock N0. 8, one of the longest canal locks in the world. The huge 37" x 42" x 48' timbers, each weighing over 20,000 lbs have been made into timber frames, fine furniture, flooring, and more.'
"This is the third structure the Douglas fir timbers will serve. What an inspiring reuse of materials by Mike and team at Point of the Bluff Vineyards," said Mosch.
New Energy Works and Point of the Bluff Vineyards will continue updates of this project as it moves forward during the Spring and Summer months. "We are planning to finish construction this Fall and will open our new vineyard home to the public in Spring of 2015," explains Countryman.
New Energy Works Timberframers have been designing and building environmentally responsible timber frames across the USA for nearly 30 years from their facilities in New York and Oregon. Offerings include: Timber Framing (design, engineering, manufacturing, build), Enclosure Systems, Fine Woodworking, and Recycled and Sustainable wood products. New Energy Works has two LEED AP staff members, is a member of the US Green Building Council and is FSC Certified.
Pioneer Millworks is a leader in the reclaimed wood industry. To date, they've rescued nearly 22 million board feet of old wood from rot and landfills, giving it new life as flooring, millwork, cabinetry, and more. All manufactured in the USA from New York and Oregon — in a way that's healthy for customers, employees, and the environment. Pioneer Millworks is FSC certified and Green America approved. All of their products are LEED point eligible.