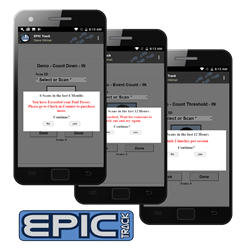 "The new features of EPIC Track has opened up many new applications for what was already a very adaptable tracking solution. Current users will find more opportunity to utilize their tracking app and eliminate all manual tracking processes currently used." - Randy Lay, Elliott Mobile Solutions
ST. LOUIS (PRWEB) May 23, 2021
Elliott Data Systems, Inc., an expert in the development and integration of the Mobile Solutions™ line of identification, accountability, and tracking solutions, released version 2.2.8 of EPIC Track software today. EPIC Track is a universal tracking solution that performs simple check-in and check-out of any kind of routine or special event. Tracking may be performed using the EPIC Track Mobile Web and/or EPIC Track App on a smart phone or handheld device from any location. The EPIC Track Cloud Server provides the backbone of the solution, allowing for easy deployments with no special server infrastructure required for site and reporting accessibility from virtually anywhere.
New features offered in version 2.2.8 include four new types of event tracking – Count Threshold, Count Down, Event Count, and a new Sub-List feature within the pre-existing Attendance Check-In/Out event tracking option – all with instant data capture and alerts synchronized among multiple checkpoints. Each new feature supports new applications of event tracking within schools, corporations, and other types of organizations that foster greater accountability within their operations.
Count Threshold limits how many times a person can check-in over a set timeframe. For instance, the Count Threshold feature may be used to track meals paid for by students, attendees, or employees per day. Once the user has reached the maximum number of meal check-ins, an alert will appear as they check-in notifying the administrator that the user has reached the limit of approved lunches.
Count Down sets a maximum number of visits allowed over a period of time and counts down as people are checked in. Once the Administrator has reached the last check-in allowed within the count down, an alert appears notifying them that they have exceeded the count. This event tracking feature maybe used for prepaid passes assigned to an individual over a three-month season.
Event Count identifies a location, establishes a limit on how many people may occupy the space, and alerts the administrator when they have reached the maximum number of people who may be checked in. This tracking feature supports occupancy checks in large spaces such as auditoriums, gymnasiums, convention halls, etc.
Sub-Lists in Event Check-In/Out allows administrators to select from a drop down of registered users making it easier to generate absentee reports based on registered attendees. The Sub-List check-in feature supports any type of classroom or meeting attendance with preregistered attendees.
EPIC Track is an off-the-shelf solution that performs on-and off-line with access to the EPIC Track Cloud Server via internet connectivity. The EPIC Track App is available on Apple and Android smartphones and integrated with the EPIC Track Server. With a flexible and user-friendly interface, authorized personnel can choose from a variety of options within the administrator module to configure tracking scenarios and begin using within minutes. These administrative options also allow users to generate specific reports during or after an event. Data used to build lists in EPIC Track Server can come from existing ID Systems, CSV files, BadgePass, or other ODBC sources. An automated data acquisition interface provides a powerful foundation for building "lists" of people, places, or things to be tracked. Learn more: bit.ly/3wpff9n
About Elliott Data Systems, Inc.
Elliott Data Systems, Inc. is a Mobile Solutions™ systems developer and integrator with expertise in deployment of Mobile Security, Positive ID, Accountability and Tracking Solutions. The EPIC Track Solution is available to purchase through Elliott Data Systems or a number of business partners located throughout the United States. Elliott and their Certified Solution Partners are trained and certified to provide professional services including consultations, user training and technical support for Elliott Mobile Solutions™ identification and accountability solutions. To learn more, contact Randy Lay, Mobile Solutions National Manager 1-888-345-8511, rlay@elliottdata.com or visit http://www.elliottmobilesolutions.com to find a Certified Mobile Solutions Provider near you. Connect with Elliott Data Systems on LinkedIn.