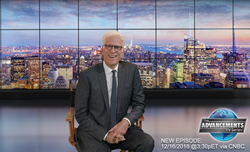 "Constant developments in technology are creating immense opportunities for people throughout the world."
JUPITER, Fla. (PRWEB) December 05, 2018
A new episode of Advancements with Ted Danson will broadcast on Sunday, December 16, 2018 at 3:30p ET. Tune in to CNBC and check your local listings for more information on this program.
First, Advancements will educate about Bethereum, an innovative gaming platform enabling players to bet on events with other players, without any middleman. Viewers will learn how Bethereum operates as a fully decentralized, secure solution built on Ethereum Smart Contracts.
The show will also look at Shivom, a platform that will use convergent technologies, including genomics, blockchain, and artificial intelligence, to establish a highly scalable healthcare vertical. It will educate viewers about how the technology will extend its services to form a global network of genomic counselors and associated laboratories, as well as how it will establish a non-profit research and development organization.
Next, the team travels to Kiev, Ukraine to learn about Paytomat's software solutions for accepting cryptocurrency, which will include an innovative decentralized franchise model, an intuitive easy-to-use wallet app for customers, chatbots, and direct integration with leading POS vendors.
Additionally, Advancements will take a look at how technology is being used in the hospitality industry as it features eTouchMenu™, which is transforming traditional paper menus into immersive digital menu experiences – taking brand engagement to a new level.
"Constant developments in technology are creating immense opportunities for people throughout the world," said Michael Devine, content development lead and senior producer for the Advancements series. "People can connect in ways never before thought possible, exchanging services, thoughts, and ideas, all on a global level. We look forward to sharing this with our viewers."
About Advancements and DMG Productions:
The Advancements television series is an information-based educational program, targeting recent advances across a number of industries and economies. Featuring state-of-the-art solutions and important issues facing today's consumers and business professionals, Advancements focuses on cutting-edge developments, and brings this information to the public with the vision to enlighten about how technology and innovation continue to transform our world.
Backed by experts in various fields, and a team dedicated to education and advancement, DMG Productions consistently produces commercial-free, educational programming on which both viewers and networks depend.
For more information visit AdvancementsTV.com or call (866) 496-4065.