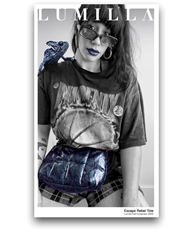 People crave simple luxuries within the context of their new normal. I wanted to create something special for their re-defined needs and evolved style," said Founder, Lulu Eschelman, "My new Escape collection is about breaking free from confinement and having a voice through what you wear.
SAN FRANCISCO (PRWEB) November 19, 2020
Luxury leather handbag brand, LUMILLA, (previously, LumillaMingus) introduces its collection for the Winter season. The new handbag range combines classic design and a contemporary European aesthetic, to create a truly one-of-a-kind handbag line. Versatile and practical, the new collection embodies a modern silhouette and is the stylish choice for everyday use.
Founder and Creative Director, Lulu Eschelman returns to the traditional values of luxury with her latest launch, which blends sleek lines and sophisticated Danish design with a refreshing, chic, modern Californian look.
What first began as a labor of love that benefitted only her closest friends and family, began to build momentum with word soon spreading to London, Paris and Los Angeles. When the company was recently featured on CNBC's The Profit, the LUMILLA brand reached a mainstream audience.
Every LUMILLA product is produced with impeccable craftsmanship and quality, with a strong focus on timelessness founded in the traditions of Haute Couture and Ready-to-Wear. Each bag is designed in the very finest, exquisite soft-touch Italian leather offering high end minimalism at its best.
"People crave simple luxuries within the context of their new normal. I wanted to create something special for their re-defined needs and evolved style," said Founder, Lulu Eschelman. "My new Escape collection is about breaking free from confinement. I want my followers and fans to regain their fashion freedom and have a unique and individual voice through what they wear."
Launched in 2013, LumillaMingus, rebranded to LUMILLA, as part of the company's ambitious expansion plans, marketing campaign and new collection launch. Business entrepreneur, TV personality and philanthropist, Marcus Lemonis came onboard in 2019 as a business partner to make some strategic shifts in LUMILLA's business to help it scale.
Commenting on the new Escape collection Marcus Lemonis, said: "I love the new brand look of LUMILLA and Lulu's latest collection. It is all about taking control again and feeling empowered to do so. As people search for their new normal, they can redefine and reinvent themselves and rethink their fashion essentials. The Escape collection will resonate with anyone who strays from conventional norms and seeks out the unexpected."
To launch the bags Lulu Eschelman enlisted social media influencer Renee Worley as a brand ambassador to promote the new line through an edgy, attention grabbing digital launch campaign. Renee Worley was chosen as the ideal partner as she embodies the Escape concept of creating new norms, owning a unique look and being rebellious with what you wear.
The hero Escape handbag has a super versatile rugged construction and sleek elegant styling. The ultra-premium, soft luxe leather silhouette comes in two sizes and two-color styles. The 18" wide laptop-friendly Escape Tote comes in an elegant Noir Black and Camo, while the 13" wide grab, trendy, crossbody Escape Rebel can be purchased in Noir Black and Indigo.
Created for the discerning shopper who appreciates impeccable craftsmanship and values owning a distinctive piece, the range is deliberately produced in limited numbers for trend setters with an adventurous spirit.
As philanthropy is a core part of LUMILLA's business value, a percentage of the Escape collection launch proceeds will go to the Blessed Hope Project and Kenny Vaccaro Foundation to help families who have been negatively affected by the COVID-19 pandemic.
To see the full LUMILLA collection which includes satchels, business and travel handbags and clutches, which are adaptable to complement almost any outfit and suit any occasion, visit: https://shoplumilla.com/.
About LUMILLA
LumillaMingus now rebranded to LUMILLA launched in California in 2013. LUMILLA handbags are crafted to the highest quality standard with hand selected Italian leathers. As a previous brand partner of Gwyneth Paltrow, the LUMILLA brand has had several successful creative limited-edition collaborations on Goop and with Catt Sadler, Rebecca Canstonguay and Montage Hotel and Resorts. Lulu Eschelman has received glowing industry endorsements who flagged her as 'One to Watch'. She has also appeared in 'Top Five in Fashion' press reviews and roundups. Brand followers and ambassadors have ranged from Anine Bing, Jessica Szhor and Lauren Scruggs Kennedy to Jacey Duprey and Louise Roe, among many others.
Notes to Editor:
High resolution product, lifestyle and influencer imagery have been produced for media use.
Details on the 2021 Spring and Summer collection will be available for long lead media in the coming weeks.
Please see the corresponding line sheet with retail and wholesale pricing for the full LUMILLA collection including the Lucca, Logan, Laia and Jacki Maxi.
Renee Worley lifestyle images and video also available.