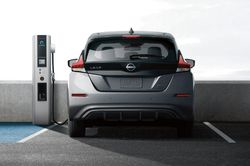 GLENDALE HEIGHTS, Ill. (PRWEB) March 17, 2023
Electric vehicle enthusiasts in the Glendale Heights area can now purchase the latest 2023 Nissan LEAF at Glendale Nissan. The dealership is excited to offer this cutting-edge electric vehicle to customers looking for a reliable, sustainable, eco-friendly car. It has added the latest 2023 Nissan LEAF to its constantly growing vehicle inventory. Drivers who love to own a powerful EV should check out this vehicle.
The 2023 Nissan LEAF is one of the best electric vehicles in the market today, offering drivers a sleek design, impressive performance and advanced technology. Equipped with a 40-kWh battery and an electric motor capable of producing 147 hp of power, the 2023 LEAF delivers a smooth and responsive ride. This makes it an ideal vehicle for everyday use.
Moreover, the 2023 Nissan LEAF is designed with the latest technology to make driving safer and more convenient. It has an 8.0-inch touchscreen display, Apple CarPlay® and Android Auto™ integration and a 360° camera system. These provide drivers with the information and entertainment they need for an enjoyable driving experience.
Glendale Nissan is committed to providing exceptional customer service to everyone who enters its doors. The dealership offers financing options and a team of knowledgeable sales representatives who are available to answer any questions and assist customers in finding the perfect electric vehicle that suits their driving style and budget.
To learn more about the 2023 Nissan LEAF and to schedule a test drive, visit Glendale Nissan at 484 E North Ave, Glendale Heights, IL 60139 or visit their website at glendalenissan.com. Customers can call the dealership at 630-469-6100.