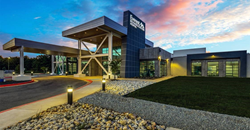 We are so excited to provide our ultra-quality rehabilitation care to the citizens of Northwest Arkansas
DALLAS and ROGERS, Ark. (PRWEB) January 30, 2020
Today, after nearly two years of planning and construction, Everest Rehabilitation Hospitals, NWA, LLC is cutting the ribbon on its newest, modern, state-of-the art, physical rehabilitation hospital in Rogers, Arkansas. Everest's comprehensive rehabilitation hospital is centrally located for the entire Northwest Arkansas population to benefit. The rehabilitation hospital is located just a block east of Interstate 49 at the corner of South Pleasant Crossing and South Dixieland Road (4313 S. Pleasant Crossing Blvd, Rogers AR).
Everest's Rehabilitation Hospital includes:

41,000 square feet of a modern, naturally sunlit design to enhance our patient and staff experience.
36 private rooms with the predesigned ability to expand the hospital by another 18 rooms in the future.
2 large, modern equipped, Inpatient and Outpatient Therapy Gyms.
A complete, licensed pharmacy and in-house dialysis.
A Therapy Car for mobility therapy.
A large therapy courtyard with a multitude of therapy options.
A HydroWorks pool/treadmill with water jets to create buoyancy for low impact resistance therapy.
A fully furnished Assisted Daily Living apartment with Kitchen and Bath.
A large dining hall with a patio for patients, physicians, staff and family to enjoy.
A multitude of family gathering and meeting areas.
Jay Quintana, Everest Rehabilitation's CEO said, "We are so excited to provide our ultra-quality rehabilitation care to the citizens of Northwest Arkansas! We provide one to one, physical therapy care to our patients, five to seven days a week. We have a very strong nurse patient ratio that contributes to optimal outcomes in our modern, naturally lit hospitals. Our enormous level of care in our acute rehabilitation hospital setting cannot be provided at other levels of care such as skilled nursing facilities or nursing homes."
Everest Rehabilitation Hospital's physical therapy programs are led by physicians and staff specifically trained in medical rehabilitation and provide for around the clock registered nursing care to patients overcoming a stroke, brain injury, neurological deficits, orthopedic conditions, pulmonary disease, spinal cord injury, amputations and other medically complex conditions.
About Everest Rehabilitation Hospitals, LLC
Everest Rehabilitation Hospitals LLC, based in Dallas, Texas, is a multispecialty acute care physical rehabilitation hospital company focused on providing high quality, physical rehabilitation care. Everest is passionate about patient care; striving to create healing and nurturing environments for all patients that not only meet their medical needs but address their emotional and social needs as well. Patients are guided through the necessary steps to reclaim daily life, recover function, and return to an optimal quality of life by combining the latest treatments, technologies, and research with a unique interdisciplinary team approach involving the patient and family from day one. Everest provides the highest level of care available to patients with disabilities caused by injuries or illnesses, or from traumatic accidents.
Jay Quintana, CEO/ Co-Founder
Jquintana(at)everestrehab.com
469-713-1145