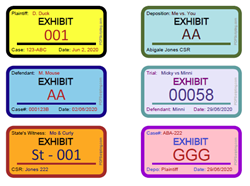 PORTLAND, Ore. (PRWEB) July 01, 2020
WindJack Solutions and pdfscripting.com announces the availability of a new Adobe Acrobat digital tool for legal professionals, the Exhibit Master.
Exhibit Master creates highly customizable, auto-incrementing dynamic exhibit stickers for marking PDFs in the Acrobat software application.
With many legal professionals working remotely due to the pandemic, their need for digital productivity tools has exploded. Many legal workers not only want, but are being forced to, eliminate steps in their document workflows that require printing and manually marking up documents. These steps don't just waster paper, they require equipment like professional printers and scanners not always available in remote home offices. Exhibit Master is a powerful addition to the legal digital toolbox for marking PDF exhibit documents in Acrobat. It makes the creation of crisp, professional looking exhibit stamps for PDFs an easy task. This tool eliminates the need to print paper and continually purchase sheets of paper sticky stamps.
Some of the features include:
1.Custom colors for border, fill, labels and values. Choose colors from a large included list or enter a custom color value.
2.Exhibit stamps auto increment each time a stamp is placed and it remembers where you left off.
3.Both letters and numbers can be used for exhibit stamps and there is an option to add a custom prefix if needed.
4.Ability to save exhibit stamp designs with preset features. Simply select a premade design and all the colors, labels, etc. are ready to go. Custom designs for Defendant, Plaintiff, Deposition, Witness, etc. can all be accessed easily in a single tool.
5.Add the current date in a variety of formats.
6.Flatten exhibit stamps with the included Flatten Exhibit Stamps tool.
Exhibit Master offers a truly cost effective and helpful addition to the legal digital toolbox. A one time $149 USD purchase of a membership to the http://www.pdfscripting.com web site gets you the Exhibit Master stamp tool and all the content at the site for a year. There is no expiration date on Exhibit Master once you have downloaded it, and no yearly renewal required. More details and a demo video are available at: https://www.pdfscripting.com/public/Legal-Exhibit-Stamp-Customizable.cfm