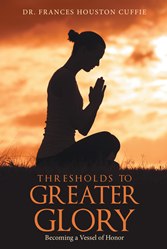 "I want this book to enlighten, encourage and empower individuals seeking support and guidance as they maneuver life's trials, situations, and growing pains"
FORT WASINGTON, Md. (PRWEB) January 06, 2023
After serving in the Kingdom of the Lord for more than fifty years, as a Sunday School teacher, Youth Choir Director, Evangelist, Pastor and now Chief Prelate of an organization, Dr. Frances Houston Cuffie, was moved to share her personal experiences on this road. Dr. Cuffie brings hope and excitement to her readers. She expresses experiences that many try to evade and sometimes hide. In this, her latest missive, "Thresholds to Greater Glory: Becoming a Vessel of Honor", Dr. Cuffie writes through humor and a fresh look at life with insight through faith in God.
Dr. Cuffie wrote this book to share with others that God cares for everyone; no matter their color, creed, gender, or socio-economic group. Dr. Cuffie would also like to discern the difference between wanting to become a vessel for God and only wanting what God can give to them.
"I want this book to enlighten, encourage and empower individuals seeking support and guidance as they maneuver life's trials, situations, and growing pains," Dr. Cuffie said.
The book stresses that life is not easy, there are going to be setbacks of all sizes and growing pains of different magnitudes but, despite all that suffering, that God has laid a future that is bright. Dr. Cuffie wants her readers to "stretch" their faith, give God praise in spite of the pain, "thank him" and trust God during times of struggle.
"All of us have failed at some time in our lives," Dr. Cuffie said. "Face it, but do not stay down. "Remember, God is still in the delivering business. He is still in the miracle-working business. He is still in the loving business."
"Thresholds to Greater Glory: Becoming a Vessel of Honor"
By Dr. Frances Houston Cuffie
ISBN: 9781664210974 (softcover); 9781664210998 (hardcover); 9781664210981 (electronic)
Available at WestBow, Amazon and Barnes & Noble
About the author
Dr. Frances Houston Cuffie serves as the chief prelate for the United Church Fellowship International Conference and pastor of Temple United Church in Fort Washington, Maryland. She holds several educational degrees, including a B.A. in business administration, an M.A. in law, and a Juris Doctorate of the Law, and a Ph.D. in theology. She has written and directed plays for the church and for her high school graduation. She also holds a Certificate of Certification in Life Coaching from the Brave Thinking Institute. She was a government employee for 23 years and worked in private law practice for four years before opening her own general law practice firm almost 20 years ago. To learn more, please visit https://www.cheradeenterprises.com/copy-of-meet-dr-frances-h-cuffie.