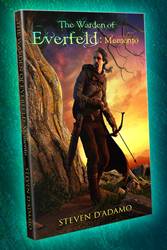 BALTIMORE, Md. (PRWEB) July 18, 2018
A brand new fantasy adventure novel, "The Warden of Everfeld: Memento", is now available from Evening Satellite Publishing. The novel may be purchased in print or on Kindle from Amazon.com: https://www.amazon.com/Warden-Everfeld-Memento-Steven-DAdamo/dp/1732255407/.
Based in the fictional world of Everfeld, this story follows two people as they struggle to reconcile their own troubled pasts and the war-torn history of their people. Ultimately, the story delves into the complex themes of honor, memory, and loyalty for those who have lived through the hardships of war.
"My original intent with this story was just to follow these two characters as they try to make sense of their lives and their world," says author Steven D'Adamo. "But I think in that process I uncovered some deeper, more relatable ideas."
"The Warden of Everfeld: Memento" takes place in a fantasy universe of the author's creation and follows the characters across a harrowing adventure through dangerous territory and against relentless foes. This is the author's first full-length novel and will be part of a much larger world-building project of novels and short stories. Visit EveningSatellite.com for a full synopsis.
Purchase "The Warden of Everfeld: Memento" on Amazon today.
About Evening Satellite Publishing
"Orbiting distant worlds to bring their stories to you."
Founded by friends and writers Steven D'Adamo and Jessie Gutierrez, Evening Satellite Publishing is a publishing imprint focused on creating imaginative works in the fantasy and science fiction genres. "The Warden of Everfeld: Memento" is the first novel to be published by the imprint.
Contact info(at)redstringpapercuts(dot)com for more information.