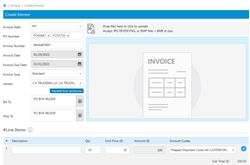 "Truly love the product. Better than anything else I am aware. So easy to use from input to actual payment, easiest manner in which to function."Dennis KStrategic, Accounts Manager,Construction, 501-1000 employees
SUNNYVALE, Calif. (PRWEB) January 25, 2023
The new features make everything easier and give organizations better control over cash flow and accounts payable process.
Some of the key features are as follows:

Product/Item Code Mismatch
SutiAP alerts users when a purchase order's product/item codes do not match the product/item codes of an invoice.
Skip N-way Matching
Users can now bypass N-way matching for invoice submission. However, this customization feature and should be enabled at the admin level.
Auto-populate GL Code
The solution auto-populates GL codes based on the selected product/item code at line item level.
Add Multiple POs for Invoice
Users can now select multiple purchase orders for an invoice. Invoice can be created for the total amount of the selected purchase orders.
We'd love your feedback as we work on additional features. Please visit SutiAP or call us at 650-969-SUTI (7884) for more information.
About SutiSoft
SutiSoft develops a comprehensive suite of cloud-based business platforms and solutions for companies of all sizes. Our four SaaS platforms - Spend, HR, eSignature and CRM Platforms include scalable and easy-to-use solutions such as Travel & Expense, Accounts Payables, Accounts Receivables, Procurement, Supplier Relationship Management, HR, CRM, Document Management, Electronic Signature, Contract Lifecycle Management, and more. Our solutions enable SMBs, mid-market, and enterprises to cut costs, save time, and help in making smart business decisions. Headquartered in Sunnyvale, California, SutiSoft also has regional offices in Germany, India, and Japan. For more information, please visit our website https://www.sutisoft.com