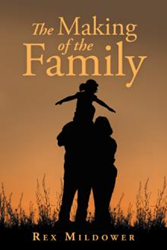 SEATTLE (PRWEB) October 30, 2018
Returning to the publishing scene, author Rex Mildower announces the release of "The Making of the Family" (published by AuthorHouse), a fiction that shares some insights on strong family values.
In the book, readers are introduced to the Wells family. Susan finds herself in a one-sided marriage, where she feels all rejected and alone. Her husband, Jacob, is neglectful of the important responsibilities as head of his home. At the same time, she has to face a jealous mother-in-law, Adassa, who believes that the place Susan occupies in life rightfully belongs to her.
With strong spirit and emotions and a good education as her foundation to afford her financial stability, Susan is able to remain firm in the face of her adversaries. In spite of all this, she also manages to speak out in the local newspaper about the moral and political ills she observes in her community
In essence, "The Making of the Family" displays what good and bad parenting is. It tells of familiar occurrences in real life and the events that may or may not be happening within a family. With it, Mildower hopes to remind readers, especially parents, to be accountable adults.
To purchase a copy and know more details, visit https://www.amazon.com/Making-Family-Rex-Mildower/dp/1546249583.
"The Making of the Family"
By Rex Mildower
Hardcover | 6 x 9in | 170 pages | ISBN 9781546249597
Softcover | 6 x 9in | 170 pages | ISBN 9781546249580
E-Book | 170 pages | ISBN 9781546249573
Available at Amazon and Barnes & Noble
About the Author
Rex Mildower is a former educator of Caribbean descent. He spent his earlier years studying language and linguistics. In his spare time, he enjoys reading about family, family relationships and responsibilities. He is a parent of three. Applying some of the insights gathered from his reading, he was able to equip his children with strong family values. He is also a former writer for his local newspaper.