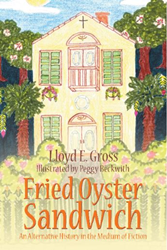 "My hopes for this book are to bring a new perspective to light and to develop nostalgia. I want my readers to see this story through the eyes of the Kaufmann family and the relationships and experiences they endure."
SEVEN HILLS, Ohio (PRWEB) November 18, 2019
In new novel, 'Fried Oyster Sandwich,' Pastor and author Lloyd E. Gross offers a fictional twist to the end of the Civil War. Throughout the book, readers will meet the Kaufmann family of New Orleans, whose story is told over four generations. As a former resident of New Orleans, Gross shares memories of his hometown by including street names, houses, and camps that hold fond recollections from his past.
Readers will be captivated by the alternative history that Gross brings to light. The author's passion for historical subjects, religion and culture are reflected in 'Fried Oyster Sandwich,' by inventing new generations of dynasties that have become extinct. Readers will immerse themselves into the early 20th century charm and idiosyncrasies that are presented throughout this fictional tale. Gross additionally introduces an enjoyable account of endless love through the Kaufmann's and their loving relationships.
"I wrote this book to present a positive fictional model of a victorious Confederacy, to remember how New Orleans used to be, to picture adolescent romance in a respectful way and to pay attention to the importance of religion," said Gross. "My hopes for this book are to bring a new perspective to light and to develop nostalgia. I want my readers to see this story through the eyes of the Kaufmann family and the relationships and experiences they endure."
'Fried Oyster Sandwich' draws attention to a bygone era illustrated through faith, family, friendships and romantic relationships that take place in important historical moments.
"Fried Oyster Sandwich: An Alternative History in the Medium of Fiction"
By Lloyd E. Gross
ISBN: 978-1-5246-8872-1 (Softcover); 978-1-5246-8871-4 (hardcover); 978-1-5246-8873-8 (eBook)
Available at Amazon, Barnes & Noble and AuthorHouse
About the author
Lloyd E. Gross is a native of New Orleans and a Lutheran pastor who served parishes for forty years before retiring in 2008. His last 29 years of active ministry he served at Christ Lutheran Church in Cleveland, Ohio. He has earned the B.A. from Valparaiso University (1964), the Master of Divinity from Concordia Seminary in St. Louis (B. Div.1968, later upgraded to M.Div.) and Master of Theology from the same institution (S.T.M. 1974). He is a widower with two children and two grandchildren. He writes poetry, especially metrical Psalms. This is his first venture into fiction.
For General Inquiries Contact:
LAVIDGE
(480) 998-2600
gbywater(at)lavidge(dot)com