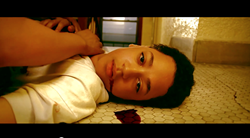 OFFICER DOWN is a highly compelling, quite gripping crime drama with strong social justice-related thematic elements.
NEW YORK (PRWEB) June 05, 2020
Currently, Mo Shines is focused on bringing his urban novel Officer Down to the big screen with actor Rotimi (Power series) attached to the project. He recently shot a proof-of-concept trailer to raise more funding to complete the movie. Shines said, "Officer Down was inspired by all the minorities killed by the police – Eric Garner, Mike Brown, Amadou Diallo, Sean Bell… any of them could've been me." Shines' writing derives from the harsh realities he was exposed to growing up in the Bronx. He's a former NYC Correction Officer who has been on both sides of the law.
"Seems like it's open season on Black folk, on all minorities. We're tired of cops gunning us down in the streets like animals. Black lives matter! Writing this book helped me release the anger and frustration I feel seeing Blacks shot down in cold blood. Growing up in the hood, I've stared down the barrels of quite a few overzealous cops. Thanks to the Most High, I'm still here."
In Mo Shines' novel 'Officer Down' a scorned mother hell-bent on bloody vengeance has the entire city on edge. In a tumultuous time when the NYPD is involved in the deaths of several young, black men, Faith Green's world is shattered when her son becomes yet another casualty. Enraged by the circumstances surrounding her son's death, she takes the law into her own hands after the cops responsible get off with a slap on the wrist.
"OFFICER DOWN is a highly compelling, quite gripping crime drama with strong social justice-related thematic elements. Faith and Capone are likable, charismatic and dramatically complex lead characters, and the reader empathizes with their quest for vengeance for Malik's senseless murder. The drama nicely escalates in dramatic tension, high stakes, urgency and complexity as it builds to the climactic showdown. The script impressively evokes a sense of gritty authenticity in its depiction of police corruption and brutality, and life in the projects of Manhattan. The script's incorporating elements of the present-day Black Lives Matter and anti-police brutality movements makes the story feel even more topical and relevant." – 2019 Slamdance Screenplay Competition
The author makes his intentions clear. He's not endorsing violence against police officers. "In no way am I telling people to go out and shoot cops. That would only make matters worse. Besides, there are a lot of good cops out there. Then there are the trigger-happy ones. They don't seem to value human life – Black life."
Shines states that the theme embedded in Officer Down is "…if you don't stand for something, you die for nothing. People can only take so much before finally striking back. I feel 50 Cent is the only one with enough guts to take on the project as a lead and producer," said Mo Shines. "Most people shy away from this kinda content. 50's built for it."
The former NYC Correction Officer turned music video director and author can no longer stand idly by while people in his community keep getting gunned down by cops, he's been protesting for the last 3 days in NYC.
About Mo Shines
Mo Shines is an American director, writer and actor. Born in Brooklyn, NY and raised in the Bronx, Shines has directed and edited over seventy-one music videos for top artists including singer/actor Rotimi (Power series), Busta Rhymes, M.O.P, and from the legendary Wu-Tang Clan artist Raekwon. Shines' work has appeared on MTV, VH1, and BET networks. As a natural born writer, he is the author of several published urban fiction books and short stories with his first being Brazen (Q-Boro Books/Kensington Books - 2005), short-story: Me and Grandma (Ballantine/Random House - 2007) and Officer Down (Self-published - 2012).
Shines is a graduate of the New York Film Academy where he studied directing and filmmaking. While his passion is directing, his gifts and training have also landed him in front of the camera as an actor in several network television shows. Shines was featured as the Stick-up Guy in episode 1 of Wu-Tang: An American Saga on Hulu and as an inmate in 50 Cent's crew in NBC series 'For Life.' Instagram: @IamMoShines
-END-