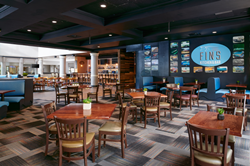 FINS is about celebrating the heart of Michigan, and its unique history and geography
LIVONIA, Mich. (PRWEB) February 10, 2020
The former Sweet Lorraine's located inside the Detroit Marriott Livonia is now FINS Kitchen & Bar. Connected to Laurel Park Place mall, the new restaurant specializes in contemporary American fare and libations. The name "FINS" has dual significance, reflecting both the fresh fish and seafood of the Great Lakes, and the "fins" or taillights on cars, a nod to Michigan's deep roots in the automotive industry.
"FINS is about celebrating the heart of Michigan, and its unique history and geography," said David Kipfmiller, general manager for the hotel. "It was the right time for the change as Detroit has been experiencing a resurgence. We are really happy to see our longtime guests and fresh faces enjoying the new feel and menu."
On February 13, FINS is hosting a ribbon-cutting and "Kick Your Winter Blues" grand reopening celebration from 5:00-7:30 pm. The event will include the Livonia Chamber of Commerce, live music from local artist Jimmy Michael, complimentary hors d'oeuvres and prize giveaways. The celebration continues after the band with Rock 'n Roll Bingo presented by ShowSlinger. All are welcome.
FINS Kitchen & Bar offers a convenient dining location for hotel guests, mall patrons, businesses, as well as locals and visitors who are exploring nearby venues. FINS "Happiest Hour" happy hour kicked off on January 20, offering specials from 4-7 pm, Sunday through Friday. The restaurant offers daily specials and unique seasonal offerings. Those diners looking for the vegan and vegetarian options that Sweet Lorraine's was known for will be pleased to see several vegetarian dishes on the menu; and FINS has introduced a plentiful selection of gluten-free options.
The hotel and the restaurant are managed by Crescent Hotels & Resorts. Crescent, based in Fairfax, Virginia, is a nationally recognized elite operator of hotels and resorts throughout the United States and Canada.
To make a reservation, reserve a group party or for additional information please call 734-953-7480 or visit http://www.finskitchenandbar.com.
About the Detroit Marriott Livonia
The Detroit Marriott Livonia, Michigan hotel is an exceptional place to stay. Featuring luxurious accommodations and superior service this peaceful suburban hotel offers the best of both environments with its easy access to urban areas including downtown Detroit, Ann Arbor and Southfield. With its unique connection to Laurel Park Place mall, this Livonia Hotel is just steps away from a variety of retailers, dining establishments and Phoenix theatre. Discover the finest of Detroit hotels in Livonia, MI, at the full-service Detroit Marriott Livonia hotel.
About Crescent Hotels and Resorts
Crescent Hotels & Resorts is an award winning, nationally recognized, operator of hotels and resorts. Crescent currently operates over 100 hotels & resorts in the United States & Canada. Crescent is one of the few elite management companies approved to operate upper-upscale and luxury hotels under the brand families of Marriott, Hilton & Hyatt. Crescent also operates a collection of lifestyle independent lifestyle hotels and resorts under the Latitudes Collection umbrella. Crescent's clients include premiere REITs, private equity firms and major developers. For more information, please visit http://www.crescenthotels.com and http://www.latitudesbycrescent.com or connect with Crescent on LinkedIn.