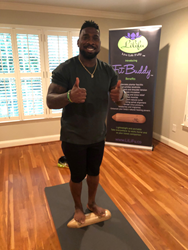 ATLANTA (PRWEB) October 15, 2018
Atlanta-based company LiLiFu LLC introduces Fit Buddy fitness/body tool. Fit Buddy is used to target a myriad issues, including neck and shoulder tension and tension headaches. It also opens the chest, facilitates deeper breathing, relieves tight hip flexors, massages glutes and forearms, and much more. Because of its many uses, it has become popular amongst professional athletes and flight attendants.
"I love using my Fit Buddy on my neck," said Zac Stacy, former New York Jet. "I love the density and how it gets into the muscle. I have had problems with my ankles and feet. Fit Buddy wakes up my feet, activates them and I get a ton of stretches for my feet. It works wonders when my feet are tight when I wake up in the morning and helps activate all of the muscles that don't usually get activated, even my big toe."
The tool is only 18 inches long and 2 1/2 inches tall. It's small design, only 1.25 lbs, allows it to fit into a carry on bag and go virtually anywhere.
CEO, Dawn Clements became passionate about the health of her body after experiencing five herniated disks at age 23 while eight months pregnant with her first child.
"Living everyday in pain can suck the joy right out of life," Clements said. "There were so many fitness and therapy tools that I was seeing. Each tool only provided a limited range of use. I created something that is practical, economical and can be used from head to toe for a variety of tension and issues with the body. It will also be there for you as you age and experience other issues. It's like having your own mini therapist at your fingertips and is less than the price of one massage."
About LiLiFu LLC Fit Buddy
Fit Buddy was created to give users one multi-use body tool to support health and body maintenance. The portable device can be used at home, in the gym and anywhere you go. Fit Buddy is available at http://www.FitBuddy.us, on Amazon and in select stores. Use promo code PRWEB to get $5 off.