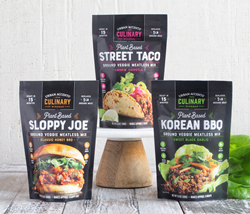 "We're thrilled to be first-to-market with flavorful, shelf-stable, dry meatless meal kits reflects Tom Knibbs, President and Mixmaster at Urban Accents. "Our Ground Veggie Meatless Mixes offer home cooks additional vegetarian options with unexpectedly satisfying flavor experiences—they're really go
CHICAGO (PRWEB) March 03, 2020
Urban Accents, flavor experts that have been stocking home kitchens for years with unique, small-batch crafted spice blends and sauces, is launching a new line of plant powered Ground Veggie Meatless Mixes. Over 50% of Americans are currently trying to incorporate more plant based meals into their daily lives. Urban Accents aims to help them by creating convenient favorites to add to their weekly repertoire. Meatless is no longer just for Mondays!
The new Meatless Mixes have an easy recipe on the back of the package along with serving suggestions. With the addition of just a few fresh ingredients, the seasoned, soy-based protein provides an out-of-the-ordinary meatless meal. Taste buds will tingle with the flavors of Sweet Black Garlic Korean BBQ Lettuce Wraps, Smokin' Chipotle Street Tacos, and Classic Honey BBQ Sloppy Joes. Each package provides the equivalent of one pound of ground meat and is ready from pouch to plate in just 15 minutes. Videos found via the QR code on the package provide easy instruction and serving suggestions from the voice of Your Culinary Wingman®, who Always Has Your Back in the Kitchen.
"We're thrilled to be first-to-market with flavorful, shelf-stable, dry meatless meal kits. Over the past few years, we noticed increased plant-based options in fast food and the frozen section of grocery stores. We decided to answer the need for innovation on shelf," reflects Tom Knibbs, President and Mixmaster at Urban Accents. "Our Ground Veggie Meatless Mixes offer home cooks additional vegetarian options with unexpectedly satisfying flavor experiences—they're really good!"
The new line of Ground Veggie Meatless Mixes have already received rave reviews and are set to launch in over 1,000 doors, including Walmart and H.E.B., and on the Urban Accents website (http://www.urbanaccents.com) in April.
View the So Good Launch video here.
Make way for feel good food! Quick Facts about New Ground Veggie Meatless Mixes

Suggested retail price is $4.99
One pouch makes 4 to 5 servings
Contains soy-based protein, 8 grams per serving
Good source of fiber, 4 g per serving
One serving compared to one serving ground beef contains 75% less calories and 100% less fat and cholesterol
A pound of beef requires 26 times more water to produce than a pound of soy
Two skus are vegan
Made with gluten free ingredients
Made with simple ingredients and natural flavors
About Urban Accents
Urban Accents is your Culinary Wingman who promises, "We've Got Your Back in the Kitchen®." Their creative seasonings and sauces offer unique, worldly flavors designed to create successful at-home food experiences with ease. The Chicago-based brand was started over 20 years ago when Tom Knibbs unexpectedly lost his job in corporate America. Raised in a food-loving family, Tom chose to turn his attention towards developing his culinary creativity. With his partner Jim Dygas, the dynamic duo has grown the original 12 spice blends to over 80 gourmet products, each still crafted in small batches with quality, passion and care using only the finest ingredients.