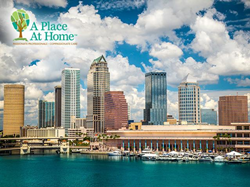 We are CARE - Compassionate, Accountable, Respectful, and Ethical
TAMPA, Fla. (PRWEB) July 30, 2019
Growing from 1 to 10 locations since 2017, A Place at Home™ is quickly becoming the fastest growing emerging Senior Care Franchise in the United States.
A Place at Home™ is a senior-focused care company offering a continuum of care services including In-Home Care (companion care, personal care, medication services), Care Coordination (consultant for the aging process), Senior Living Alternatives (placement services for the next place to call home), and Staffing Solutions (B2B).
This whole-view approach recognizes that everyone's situation is different. The need for reliable, tailor-made services, from one company, is essential for seniors to age gracefully. Not only does their senior-focused model offer solutions to clients, but it also supports diverse revenue streams for the business.
Are You the Ideal Owner?
Ideal owners possess a passion to help others and a desire to take control of their future through business ownership. Our "We are CARE" (Compassionate, Accountable, Respectful, and Ethical) philosophy must align with their own values and be incorporated in their business decisions.
Candidates may have sales, operations, or healthcare background and a desire to network and build relationships within the community. Franchisees who roll-up their sleeves and invest time early in their business should be positioned for a future that can focus on additional territories, absentee ownership, or resale potential.
The Territory: Tampa Bay Area
There are over 624,000 seniors age 65 and older within the Tampa Bay area including Hillsborough, Pasco, Hernando, and Pinellas counties. The number of seniors is projected to increase by 18.8% in the next five years. Seniors age 85 and older are set to increase by 36%. There is amazing growth potential including area development opportunities available.
Support & Training
A Place at Home™'s initial training (CARE Track) can take owners from signing day through launch in as few as 60 days. Introductions to discounted vendors, establishing third-party pay sources, and license consulting are just a few of the support items in this step-by-step process.
Both web-based training and weekly support coaching involves care education, employee and client satisfaction, and retention techniques, best hiring practices, marketing/sales strategy, operations, and operating systems. The last step of the CARE Track is completing 40 hours of in-the-classroom and on-the-job training at the affiliate-owned location in Omaha, NE.
The Investment
The investment includes everything you need to launch your own A Place at Home™.

Franchise Fee - $48,000 - $76,200
Working Capital & launch expense - $42,608 - $108,300
Lease Space
Initial marketing fees
Web Domain
Professional Fees
Equipment, computers, and more
40 hrs of hands-on training - Included in Franchise Fee
Continued Support - Included in Royalty
TOTAL ALL IN - $90,608 - $184,500
On-Going Fees:

De-Escalating Royalty - 5.5% - 4.5% (incentive based)
Marketing Fund 1%
Technology Fee $60/month
To learn more about A Place at Home™, visit http://www.aplaceathome.com. To learn more about franchising opportunities, visit http://www.aplaceathomefranchise.com.
CONTACT
Paul Ackermann, MBA, Director of Development
O: 888-502-6310 x 103
F: 402-506-9373
paul.ackermann(at)aplaceathome.com
http://www.aplaceathomefranchise.com
ABOUT A PLACE AT HOME™
A Place at Home™ (a NorEast Franchise Group) offers a range of customized, senior-focused care services, including: in-home care, care coordination, and assistance in identifying and transitioning to senior living alternatives. The company is dedicated to preserving the quality of life for seniors by giving them the support they need to stay as independent as possible, for as long as possible. Those who would like to explore franchising should contact the owners to start a conversation. Visit aplaceathomefranchise.com, or aplaceathome.com for more information.
###
If you would like to learn more about franchising with A Place at Home™, please call Paul Ackermann at 888-502-6310 x 103, or email paul.ackermann(at)aplaceathome.com to explore this opportunity further.