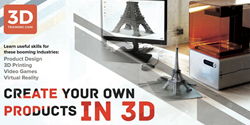 By 2025 the skills gap is expected to create over two million positions. To mitigate this shortage, companies are looking to partner with colleges & universities that can supply trained students, using products like Fusion - Michael Fischler-CEO, ThinkEDU
Palo Alto, CA (PRWEB) May 20, 2017
3DTraining.com the industry's leading provider of short-term, online training, announces a new program "Create Your Own Products In 3D" using Autodesk® Fusion 360™ software. The official launch of the program will held with a seminar at the Microsoft Seminar Room, located at the Stanford Shopping Mall in Palo Alto, California, on Wednesday May 24th, 2017 from 7- 8:30 pm.
In today's design-centric world, skills in 3D product design are growing in demand. The "Create Your Own Products In 3D" program that is targeted towards middle school to college students to teach them how to use the next-gen, cloud-based Fusion 360 software to create models in 3D, such as custom Smartphone Cases, Household Items, Wearables, Drones, Cars, etc. Students will also learn how to use models created to make real-life products using 3D Printers or within Video Games and the latest Virtual Reality Applications.
The Program will be conducted using 3DTraining's proprietary cloud-based platform and supplemented by live-online labs, helpdesk, and monthly performance challenges. The entire program will be four months in duration, requiring a minimum of three hours of learning and practice time each week. Students can participate from any part of the world as long as they have access to a computer (Mac or PC) and the Internet.
For a limited time, 3DTraining will be offering the program free for one month and the entire program at the introductory rate of $99 USD to students (a $360 value). Autodesk will provide a 3-year license of Fusion 360™ software to qualified students and educators participating in this program, at no cost.
"For students who are interested in a career in the product design and manufacturing space, Fusion 360 is a unique new software which integrates mechanical design, industrial design, simulation and analysis all in one product. We are happy to support 3DTraining's new Fusion training program as they have been doing an excellent job with training in Autodesk products for over 19 years and counting" - Chris Bradshaw, Senior VP Autodesk
To encourage students to understand the product creation process, 3DTraining.com is also planning to conduct a 3D product design contest. The contest will be judged by Jeff Smith and Gerard Furbershaw, the founders of LUNAR; an award-winning design firm in the San Francisco Bay Area.
Students will get to team up with their friends and compete for attractive prizes such 3D printers, VR Headsets, Gaming Consoles, Tablets and more. By participating in the contests, students will learn the importance of teamwork in the product design and creation process.
"Mastery of today's sophisticated 3D tools such as Fusion 360 and working effectively together as teams are essential ingredients of the most successful creativity. We look forward to reviewing the innovative design concepts that the contest participants come up with" - Jeff Smith - co-founder, LUNAR.
After the successful launch of the program, 3DTraining plans to offer its cloud-based training platform to schools, colleges, and other career training centers who would like to offer Autodesk® Fusion 360™ training to their students.
For more information about the seminar, visit: http://www.3dtraining.com/fusion