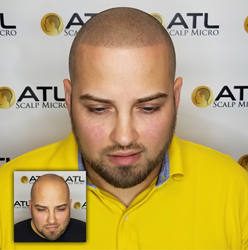 ATLANTA (PRWEB) November 20, 2018
Hair loss sufferers used to have only three options: 1) temporary topicals, like sprays or fiber powders, 2) hair pieces like toupees or "man weaves", or 3) expensive hair transplant surgery. All of these fell short of being the ideal solution.
Now, men and women are turning to Scalp Micropigmentation (SMP), a form of cosmetic tattooing that creates tiny impressions of pigment on the scalp that looks just like new hair growth.
Andre Lawrie, owner and operator of ATL Scalp Micro, is a Master Certified SMP artist. He was trained by Scalp Micro USA in New York City, known for their natural-looking work, and is the first to bring this method from New York to Atlanta.
Before he entered the field of Scalp Micropigmentation, there weren't many people of color doing SMP or professionals who were efficient at creating ideal hairlines on black and Latino men. Andre has mastered ethnic hairlines and his work looks amazingly realistic. His unique talent draws men and women of all different skin tones and hair types to his shop.
Andre is the best Scalp Micropigmentation artist in Georgia. Though there are a couple of other artists in the metro-Atlanta area who have been doing SMP for longer, all it takes is one look at Andre's before and after pictures for people to recognize that his work surpasses any artist in the southeast United States.
Men suffering from Male Pattern Baldness, alopecia, and receding hairlines travel from all over the country to have this procedure done at ATL Scalp Micro. Clients from all over Georgia, Alabama, Tennessee, North Carolina, South Carolina, New Orleans, and more leave his shop looking like they have a full head of hair again, with hairlines so defined it looks like they just got a fresh line up at the barbershop.
Many happy clients have left excellent, heartfelt reviews for ATL Scalp Micro- and their significant others love their results too!
Scalp Micropigmentation results last up to 6 years, depending on the client's skin type and aftercare, making it the most ideal hair loss solution. It's much less maintenance than having to apply topicals or hair pieces and costs much less than surgery. Clients can have a fuller head of hair in 2-3 sessions, or in as little as one month!
Andre also performs corrective work on clients who weren't happy with their previous Scalp Micropigmentation or had unsuccessful hair transplant surgeries. People who have tried FUE hair transplants are frequently left with big scars or bald patches in their hair and end up needing SMP to fill in the gaps.
While Andre specializes in hairline restoration, his wife, Janice, specializes in microblading eyebrow tattoo at XO Beauty & Brows. She was one of the first microblading artists in New York and Atlanta when she started her business in 2015. Together, they're quickly becoming a power couple in the permanent makeup industry.
Call (404) 449-4598 for more information and to book your consultation today. Follow Andre at @atlscalpmicro on Instagram to see more of his Scalp Micropigmentation before and after photos.