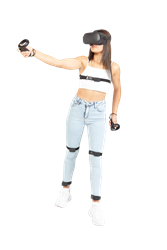 WalkOVR MOCAP, an all in one package, everything you can want from a VR based motion system.
SAN FRANCISCO (PRWEB) November 08, 2021
Now everybody will be dancing properly in Metaverse since WalkOVR, a tech start-up known for its VR locomotion devices has launched its new product, WalkOVR MOCAP, which enables motion capture in virtual reality and increases the quality of the VR experience.
WalkOVR has been offering its users the easiest and most affordable VR locomotion solutions since the day the company was founded. This November, they launched their latest product WalkOVR MOCAP updated their software OVR Portal to release their most anticipated feature in VR: Motion capture. With this new product and latest software, WalkOVR now fully supports mocap-enabled games like VRChat, Blade and Sorcery, and even Beat Saber (to play feet saber with feet saber mod), meaning that the users can use their physical being and track their body movements in the game, even for dancing in Virtual Reality.
It is a well-known fact that motion capture not only brings excitement to the VR gameplay but also doubles up the immersion in the virtual reality environment. Because now, users can 'see' their legs and lower body movements in a Virtual Reality environment, exactly as they do in real life.
But how? WalkOVR MOCAP captures all of the movements of legs and body through motion-capture algorithms developed over its inertial-based sensor system and allows its users to control their in-game avatars by using their natural body movements. Users simply wear the strap bands coming within the WalkOVR package and put WalkOVR sensors (aka OVR nodes) over their bodies. Then they just start their VR system and the MOCAP enabled game such as VRChat. This latest version of WalkOVR also enables all the features of the existing products in the WalkOVR series, such as decoupling, body strafing, treadmill usage, analog/digital speed variations, leg strafing, and so on. Above this, since this WalkOVR version is a 5 nodes system, their proprietary locomotion system and features work even better with further precision.
Founder of the company Tugra Sahiner states that "Metaverse is the combination of life-like digital experiences. Therefore a more realistic VR experience is an absolute necessity. People want to see body parts other than arms and head, they want to see their body and by releasing WalkOVR MOCAP we are one step closer to this. You are not just controlling the direction of your VR Avatar, but you can show your dance figures in VR. WalkOVR MOCAP is the fourth addition to our product line. We have WalkOVR ONE for only upper body maneuvering for beginners, WalkOVR TWINS for locomotion support, WalkOVR TRIO for a professional decoupled locomotion system, and now WalkOVR MOCAP, an all in one package, everything you may want from a VR based motion system.."
As stated also here, it seems that one of the most significant benefits of WalkOVR products is that they work as an extendible system, which means the users can connect many nodes to increase the immersion of their VR gameplay. They can start by using WalkOVR ONE then include two more OVR Nodes to have a WalkOVR TRIO and add another two to create WalkOVR MOCAP as they progress and get professional in VR. The company uses this to their advantage and offers a special discount for WalkOVR TWINS, to let users who already have WalkOVR TRIO add two more nodes to their system and create their latest product, WalkOVR MOCAP.
About WalkOVR
WalkOVR is a company founded first in Istanbul/Europe and then moved to San Francisco. The team of electronic engineers, software developers, graphic and product designers was formed with a shared dream of free VR movement unhindered by the limitations of controllers. With their focus on wearable technology, collecting feedback and positive response from gamers, and succeeding in Kickstarter in 2019 they developed their latest fully wireless VR motion capture device, WalkOVR MOCAP, the latest product designed to achieve WalkOVR's vision for an immersive gaming experience.
For more information on WalkOVR, visit their website