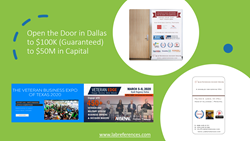 Funding your business is one of the first—and most important—financial choices most VOB will ever make. Gaining access to capital is ultimately a driver on whether your VOB fails or is successful - Felton Lewis IIII
ATLANTA (PRWEB) March 03, 2020
Three former Small Business Administration/Small Business Development Center Advisors recognized that a new resource was needed to effectively assist small business owners in navigating an effective capital raise. In collaboration with business bankers, a business school college professor, and SCORE Mentors, the SBA Advisors assembled a transparent and proven ten step process that guarantees a six digit capital raise referred to as the "Capital Ready Program".
Their team identified the two primary barriers that most entrepreneurs face:

1. not knowing what the right source of capital is based upon their mitigating circumstances, and
2. not meeting the underwriting criteria for approval
The Capital Ready Program eliminates those two barriers through a systematic methodology of gathering data from each Program participant and, concurrently, addressing any deficiencies for underwriting approval. They explain it is just like getting a mortgage—if you select the right type of mortgage for your circumstances AND meet the underwriting criteria, you'll be approved and close on your loan.
The processes and algorithms used in the Capital Ready Program typically generate the first tranche of capital raise in less than thirty (30) days with an emphasis of a business credit (EIN-based) capital raise whereby the funding is reported on Dun & Bradstreet and Experian Business rather than personal credit. After the first tranche is completed, many participants will have the liquidity and business credit worthiness to pursue larger business loans and/or lines of credit.
Many small business owners and veteran owned businesses find themselves with damaged personal credit. While not all sources of capital incorporate personal credit worthiness into the underwriting process, many do, so the Capital Ready Program has several valuable resources to rapidly improve personal credit scores. One example is a Bridge Loan Program whereby money is loaned to the Participant to pay off or at least pay down revolving utilization below 30% resulting in a near immediate boost in credit scores.
While there are many different sources of capital attainable through the Capital Ready Program, the most popular is an SBA 7(a) Express Loan. With only a 165 FICO required for approval, minimum collateral requirements, ten-year repayment terms with low interest rates, and access to start-up businesses, this is a valuable resource for many small businesses. Conversely, some entrepreneurs and veteran owned businesses prefer a capital raise that does not rely on debt whereby the capital raise does not have to be paid back and the Capital Ready Program offers that option too.
Creating an effective loan/funding package is essential for an effective capital raise. Through a grant received from a 501(c)(3) non-profit, the Capital Ready Package includes the development of a professional business plan and financial projections at no cost to participants.
"It costs money to start and operate a successful minority business. Funding your business is one of the first—and most important—financial choices most VOB will ever make. How you choose to fund and access capital for your business affects how you structure, operate and grow your business. Gaining access to capital is ultimately a driver on whether your VOB fails or is successful." Felton E. Lewis IIII, Director of Enrollment (MI, TX & GA Chapters), Stars & Stripes Business Financial literacy | http://www.snsbfl.org
If you are an organization or association that serves veteran owned, minority owned, women owned, or native american businesses, or you know any SMB tech startup entrepreneurs looking to raise capital in 2020, please reach out to Felton Lewis to request a briefing on our Capital Ready Affinity and Affiliate Programs. Lab References Advisory Group is a certified SDVOB. Felton has been trained and certified as the NEW Branch Manager for Innovative Capital Strategies.
If you are attending the NVSDC Business Expo of Texas 2020 March 3rd, please stop by Booth 24 to meet with Felton. https://www.nvsdc.org/trade-show
If you are attending the Veteran Edge Conference March 5-8, 2020 Hyatt Regency Dallas, Felton will be speaking on a panel at the conference and is available to brief you on the Capital Ready Program. https://ivmf.syracuse.edu/programs/entrepreneurship/growth/veteran-edge/
You can reach Felton at fel@labreferences.com | 404.220.8288 | https://www.linkedin.com/in/flewis4/