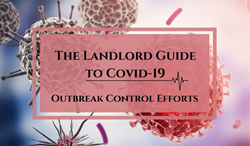 "Our goal is to reassure rental professionals that education is the first step in staying calm and disseminating accurate information to their employees and renters," says Kaycee Miller, Rentec Direct's Marketing Director"
GRANTS PASS, Ore. (PRWEB) March 12, 2020
In an effort to help property managers and landlords, Rentec Direct has released new guidance on the coronavirus disease 2019. Coronavirus: The Landlord Guide to Outbreak Control Efforts from Rentec Direct offers tips, advice and best practices for property managers and landlords on the coronavirus.
Over 15,000 landlords and property managers use Rentec Direct's property management software to manage their rental properties and tenants. Additionally, Rentec Direct offers a popular real estate blog with educational articles on topics related to property management and the rental industry, visited by over 100,000 each month. Rentec Direct's guidance on the coronavirus is published on the Rentec Direct Blog for property managers, landlords, and investors.
"We want to give property managers and landlords clear information on how to effectively deal with the Coronavirus at their rental properties," says Kaycee Miller, Rentec Direct's Marketing Director, of Coronavirus: The Landlord Guide to Coronavirus Outbreak Control Efforts. "Our goal is to reassure rental professionals that education is the first step in staying calm and disseminating accurate information to their employees and renters."
The guide goes into further detail on education and resources available to property managers and landlords on COVID-19, including Coronavirus Preparedness for Apartment Firms from The National Multifamily Housing Council and Pandemic Guide for Real Estate Managers from the Institute of Real Estate Management.
Additional information in the guide includes tips for: cleaning and disinfecting, dealing with common areas, and preparing for quarantines in your rental properties. Rentec Direct recommends that housing providers consider how they will handle late fees or missed rent payments if residents are unable to go to work due to quarantines or illness.
###
About Rentec Direct
Rentec Direct offers industry-leading property management software and tenant screening solutions for real estate professionals. Features include online rent payments, tenant and owner portals, the industry's largest vacancy listing syndication network, full property, tenant, and owner accounting, 1099-MISC reporting and more. Rentec Direct received the Real Estate Company of the Year Award in the 2019 American Business Awards, has been named to the Inc. 5000 List of Fastest-Growing Private Companies for three years in a row (as of 2019), and was also included on the 2017, 2018 and 2019 Entreprenuer360 list for Best Entrepreneurial Companies in America. http://www.rentecdirect.com