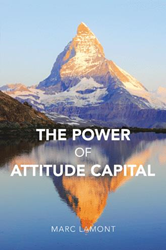 GHENT, Belgium (PRWEB) August 16, 2019
According to Marc Lamont, the success of companies is determined by the sum of the individual success of their employees. And the success of employees can be increased dramatically by developing and further increasing the attitude capital. Having served in international and global management and executive roles for over 40 years and this with three companies belonging to the Fortune 500 as well as with start-up and scale-up companies, Lamont experienced a lot of interesting situations in which growth of realization potential was needed and allowed him to also interview more than 250 business people who had been successful in realizing this.
To help individuals, employees, entrepreneurs, managers and companies increase their attitude capital and bolster success, Lamont releases a guidebook titled "The Power of Attitude Capital" (published by AuthorHouse UK). The book also illuminates the way that leads to individual and company success. It illustrates that the value of Human Capital, including knowledge, experience, skills, and talent is small to irrelevant if a low level of attitude capital is present: to experience the full effect of human capital a high attitude capital is needed.
The book is meant not only to read, but also to use on a daily basis as a guide to increase attitude capital. "The Power of Attitude Capital" does not look at what is going wrong in organizations or at an individual level. It rather seeks to motivate organizations and individuals to work on the opportunities that they have to increase success. To purchase and to know more about the book, interested parties may visit https://www.authorhouse.co.uk/Bookstore/BookDetail.aspx?BookId=SKU-001193686.
"Increasing significantly realization potential and working actively towards success is something that can be learned by developing attitude capital. It is a lifetime effort just like doing fitness to have a good condition," says Lamont.
"The Power of Attitude Capital"
By Marc Lamont
Hardcover | 6x9 in | 200 pages | ISBN 9781728381510
Softcover | 6x9 in | 200 pages | ISBN 9781728381503
E-Book | 200 pages | ISBN 9781728381497
Available at Amazon and Barnes & Noble
About the Author
Marc Lamont earned a master's degree in medical and pharmaceutical sciences at the University of Ghent, Belgium, and a master's degree in business administration at the Flanders Business School, Antwerp, Belgium, a program in cooperation with the J. L. Kellogg Graduate School of Management, Northwestern University, Chicago. He has served in leadership roles at numerous organizations, including Baxter International, Boston Scientific, and Vital Images for more than 40 years.