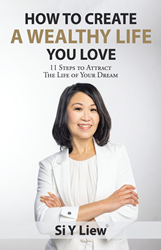 EDMONTON, AB (PRWEB) February 06, 2023
Introducing a system of transformations for life, author, and life coach Si Y Liew offers personal experiences and helpful advice for readers to grow and nourish their lives for success. Using ancient religion, philosophy, and modern psychology, Si Y Liew helps readers identify their sole purpose, define dreams, attract "the one" and focus on desired goals by identifying and releasing subconscious blocks that are in the way of living a wealthy life.
Throughout the book, Si Y Liew develops a foundation for readers to develop willpower, strong confidence and maximize potential for their future. Si Y Liew helps pave a path in letting go of negative thinking and embracing knowledge, wisdom, and truth to help enhance physical and spiritual evolution. Si Y Liew shares her wisdom from her life experiences and research she conducted with many renowned transformational masters.
"This book provides an exact step-by-step system to achieve unconditional success, no matter what challenges are being faced, or what current circumstances are," Si Liew said. "We must be our own champions in bettering our lives and believing in ourselves. We can't go through life worrying about what people will say."
"How to Create a Wealthy Life You Love: 11 Steps to Attract the Life of Your Dream"
By Si Y Liew
ISBN: 978-1-9822-73507 (softcover); 978-1-9822-7351-4 (electronic)
Available at Balboa Press, Amazon and Barnes & Noble
About the author
Si Liew is a transformational coach, international speaker, author, real estate entrepreneur, philantropist and a healthcare practitioner. Liew is the co-author of "Soul of Success Vol. 3" with Jack Canfield and is the founder of her personal development company. She holds a Bachelor of Nursing degree, Master of Business in Administration. As a result of her coaching programs, her clients have greater clarity of their life purposes, push through their limiting beliefs and create a life they love living. Si offers workshops as well as transformational in-depth coaching programs committed to helping clients achieve new heights of success, fulfillment, and spiritual aliveness. For more about Si Liew, visit her website; http://www.siliew.com.
General Inquiries, Review Copies & Interview Requests:
LAVIDGE – Phoenix
Ashley Baccaro
480-648-7557
abaccaro@lavidge.com