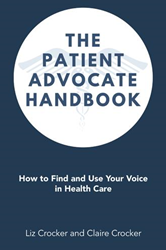 LEONGATHA, Australia (PRWEB) November 06, 2019
Sudden health problems can be overwhelming and cause fear and insecurity. In this new handbook, "The Patient Advocate Handbook" (published by Balboa Press AU), authors Liz and Claire Crocker seek to teach individuals how to manage the mental and emotional aspect of health care so that patients can make good decisions under pressure.
When a close relative of Claire Crocker's underwent a series of health events in 2009, she realized she didn't know how to properly support and protect her loved one despite being a lawyer. After discussing her experience with her mother, the Crockers set out to create a guide to help others in the future so they didn't have to feel the way Claire Crocker did in 2009.
The handbook has three main messages: healthcare has changed and families must speak up for themselves, how to manage the mental and emotional journey, and how to make good decisions under pressure. More information is also available at their website https://www.thepatientadvocatehandbook.com.
"The Patient Advocate Handbook"
By Liz Crocker and Claire Crocker
Softcover | 6 x 9in | 210 pages | ISBN 9781504318693
E-Book | 210 pages | ISBN 9781504318709
Available at Amazon and Barnes & Noble
About the Author
Liz Crocker is a registered psychologist in Australia with over 40 years of experience in the health industry where she specializes in cancer-related health issues and women's health. She also provides counseling support to health professionals. She has conducted trainings for doctors and other key health professionals to help them improve their relationships with patients and families.
Claire Crocker, Liz's daughter, is a lawyer and business owner skilled in managing crisis and change. She was a partner in a law firm where she focused on family law cases before leaving her firm to complete a Master of Business Administration. Claire Crocker now owns and operates a diverse business group with interests in business coaching and strategy, law, food and personal well-being.