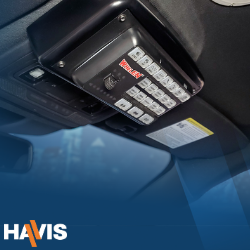 "This new overhead console gives fleet managers the flexibility to mount a light and siren control head in a secure and accessible position, while preserving valuable equipment mounting space in other locations."
WARMINSTER, Pa. (PRWEB) August 27, 2020
Havis, Inc., a leading designer and manufacturer of transport and mobile working solutions for the public safety sector, has introduced a new low-profile Overhead Console for the 2020 Ford Police Interceptor Utility vehicle and Explorer.
The new Overhead Console mounts a remote light and siren control head in the OEM overhead console area. The low-profile design with smooth rounded edges minimizes head impact in the case of a collision. OEM dome lights and passenger airbag indicator lights are retained and do not require any relocation.
"Havis referenced Federal Motor Vehicle Safety Standards for head impact to design a low-profile solution for overhead mounting," said Jeff Tripp, Havis Fleet Product Manager. "The low-profile design helps to minimize the potential for head injury or blocking the driver's vision."
This newly designed console replaces the removable rear section of the OEM overhead console with an adapter for equipment mounting. The versatile nature of this mount allows the overhead console to fit common remote light and siren control heads such as Whelen Cencom, Federal Signal Smart Siren, Code 3 Z3, and SoundOff Signal nEnergy.
"This new overhead console gives fleet managers the flexibility to mount a light and siren control head in a secure and accessible position, while preserving valuable equipment mounting space in other locations."
ABOUT HAVIS
Havis, Inc., is a privately held, ISO 9001:2015 certified company that manufactures in-vehicle mobile office solutions for public safety, public works, government agencies, and mobile professionals. For more than 80 years, the Havis mission has been to increase mobile worker productivity with industry-leading products that are built to the highest safety and quality standards and are designed with comfort in mind. Havis is dedicated to responsible intellectual property management, and fosters ongoing innovation. Havis's patent and trademark portfolio demonstrate a commitment to consistently researching and developing unique products and solutions for mobile industries around the world. With headquarters in Warminster, PA, and an additional location in Plymouth, MI, Havis currently employs more than 300 people. For more information on Havis, please call 1-800-524-9900 or visit http://www.havis.com.