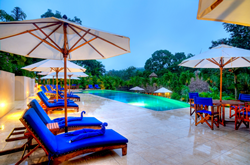 We want our guests to leave here feeling better
SAN IGNACIO, Belize (PRWEB) March 11, 2020
The Lodge at Chaa Creek's emphasis on healthy vacations has just taken a calm leap forward with the introduction of an inhouse yoga teacher and a new inland rainforest-to-Caribbean Sea "wellness vacation package," the Belizean eco-resort's public relations manager says.
"We're very pleased to now offer regular yoga at The Lodge at Chaa Creek and Hilltop Spa," Denise Duran said.
"One of our new year's resolutions for 2020 was to build on our healthy vacations, and having an inhouse yoga instructor joining our team is a step in that direction.
"We're also offering a new all-inclusive Belize vacation package that extends our healthy vacations from the inland rainforests to Belize's Caribbean coast, giving guests the opportunity to experience Belize from jungle to sea in one seamless vacation," she added.
The new "Caribbean Beach and Inland Adventure Vacation Package" is a collaboration between Chaa Creek and the Naïa Resort and Spa on Belize's southern Placencia Peninsula.
Both resorts offer a full-service spa with healthy dining options and a range of outdoor activities.
"Chaa Creek's Hilltop Spa looks out on the foothills of Belize's Maya Mountains, and our Mariposa restaurant pioneered farm-to-table cuisine in Belize with fresh ingredients grown at our onsite Maya Organic Farm.
"Naïa Resort and Spa offers a Caribbean beach experience with a spa situated in a tranquil lagoon and several onsite dining areas with an accent on fresh seafood.
"Combine the two, and you have a Belizean surf and turf style vacation that sees guests seamlessly transported between Belize's inland and Caribbean worlds – all with an emphasis on wellness combined with adventure," Ms Duran said.
Chaa Creek has long offered vacations that combine outdoor activities with fine dining and an immersive spa experience. With canoeing the Macal River, hiking and horseback riding through a 400-acre private nature reserve, swimming and lounging at an infinity pool, exploring ancient Maya temples and city-ruins, and a range of onsite and offsite tours, the accent has been on combining relaxation with enjoyable exercise, Ms Duran explained.
"Now, in addition to our established range of massage and other professional spa treatments, guests have an even wider selection of integrated, holistic healing choices during their vacations. We believe that promoting health – environmental, in communities and individuals - is an important part of sustainable tourism.
"We want our guests to leave here feeling better," Ms Duran explained.
The Lodge at Chaa Creek has long been a recognised leader in sustainable tourism in Belize, having garnered awards from National Geographic, Green Globe, the Belize Tourism Board and other travel authorities.
"Surrounded by our own 400-acre private nature reserve, we enjoy air that's continually refreshed by the surrounding rainforest, the purest water, and farm-to-table dining using fresh organic ingredients grown right here. It's a naturally wholesome environment, and over time we came to appreciate that internal wellbeing was also an important part of a healthy vacation," Ms Duran said.
"And while we informally offered yoga, meditation, and other holistic practices from time to time, we're excited to now have a dedicated yoga teacher to offer instruction and personal care for our guests," she added.
Ms Duran said that today's travellers also appreciate the fact that, from the moment they are picked up at Belize's international airport until drop off, they remain in Chaa Creek's care.
"Over nearly forty years Chaa Creek has built an extensive infrastructure and nationwide network of trusted travel colleagues that make our all-inclusive Belize vacation packages exactly what the name implies. Absolutely everything, from accommodation, all meals, activities, and transfers are included.
"This makes our vacations unmatched for both affordability and peace of mind. Having our own transportation and tour company, Chaa Creek Inland Expeditions, means that even while travelling our guests remain under an umbrella that provides unmatched safety and security.
"So, in addition to healthy activities, Belize's best organic dining, and you can add serene peace of mind.
Ms Bradley said healthy vacations go hand in hand with a healthy environment and communities.
"We take a holistic approach to sustainability. Supporting the health of our beautiful natural environment and local communities extends to our staff members and guests, too.
"With the addition of inhouse yoga and a new inland rainforest- to-Caribbean seacoast healthy vacation package, we can definitely say that, for 2020, the accent is on healthy vacations offering casually luxurious peace of mind," Ms Duran said.
The Lodge at Chaa Creek is a multi-award winning eco resort set within a 400-acre private nature reserve along the banks of the Macal River in Belize. It was recognised by National Geographic with first place honours at the 2017 World Legacy Awards held in Berlin.