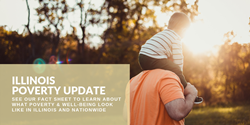 "The historic gains in health coverage made possible by the Affordable Care Act have slowed and are reversing. These data are deeply concerning and suggest the unrelenting opposition to the ACA and threats to public programs are taking a toll on those who need services most." Katie Buitrago
CHICAGO (PRWEB) September 27, 2019
And Illinois saw a decline in Medicaid coverage for over 106,000 non-seniors from 2017 to 2018, a drop of 0.8 percentage points. Almost all of the people who lost Medicaid were in the Chicago six county area. These new data show us that the years of positive trends in increasing coverage seem to have come to an extreme halt.
"The historic gains in health coverage made possible by the Affordable Care Act have slowed and are now reversing," said Katie Buitrago, Director of Research at Heartland Alliance. "These data are deeply concerning and suggest that the unrelenting opposition to the ACA and continuous threats to public programs are taking a toll on those who need these services most."
The repeal of the individual mandate, the gutting of the enrollment assistance programs, and the expansion of low-quality "short-term" health plans have sown confusion throughout communities and contributed to this drop in coverage. But it is not only the executive orders, bureaucratic barriers, and regulatory changes that have resulted in millions more going uninsured—the Trump Administration's anti-immigrant policies have also contributed to coverage losses. Latino Americans experienced a 1.6 percentage point decline in coverage, with non-citizens experiencing an even higher 2.3 percentage point decline. This dramatic rise in the uninsured rate strongly suggests that immigrant communities are being discouraged from signing up for health coverage and public benefits. The recent "public charge" rule change that penalizes immigrants seeking to naturalize if they are low-income or use public benefits is a prime example of the policy proposals that lead to this sort of chilling effect.
"These attacks on families are pushing people into poverty and into the shadows," said Dan Rabbitt, Heartland Alliance Health Policy Expert. "Families are being forced, out of fear and necessity, to decide if they should obtain health coverage, and that is not a decision anyone should be forced to make. Our leaders should be working to provide quality, affordable health care to all, reduce out of pocket health costs, and increase coverage options for immigrants, not chipping away at supports that keep our communities healthy."
In addition to these findings, Heartland Alliance has release a fact sheet looking at income, poverty and health insurance in Illinois and Chicago. View it here