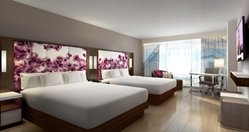 "We started managing our linen inventory from day one. We automatically track laundry activity, monitor linen aging and efficiently manage linen storerooms. I'm very excited about the capabilities this system delivers and how it helps our overall operations." said Munish Sarup, App Systems Analyst
LOS ANGELES (PRWEB) June 13, 2019
InvoTech Systems Inc. announced the implementation of its Linen System at the recently opened Hilton Washington DC National Mall. InvoTech Systems is the leading provider of advanced Linen Management, Laundry and Uniform Systems that integrate the latest RFID technology to increase profitability for hotels, resorts, casino operators, sports arenas, convention centers and theme parks. The InvoTech System installed at Hilton Washington DC National Mall manages inventory for approximately 30,000 linens, and the hotel joins InvoTech's extensive client portfolio of hospitality clients worldwide. Click here for more information on InvoTech's Linen, Laundry and Uniform Systems.
The property will use the InvoTech RFID Linen System to manage their high-quality guestroom linens. The hotel has approximately 30,000 linen items for the 367 well-appointed guestrooms. The hotel will use a RFID Laundry Cart Reading Station with an easy-to-use touch screen monitor that instantly identifies and counts linens in laundry carts. The system functionality allows the property to automatically track linens to and from the laundry. This eliminates the daily task of physically separating the different types of linens and then hand-counting and manually-recording. The Hilton Washington D.C. National Mall uses the Portable Handheld RFID Readers with InvoTech Mobile Software to maintain the linen storerooms at optimum inventory levels.
The system provides 100% reduction in non-theft related losses, cuts labor costs by 50%, and provides control of outside laundry charges. The system eliminates traditional labor-intensive tasks, such as manual sorting, counting and recordkeeping to reduce operational costs. Additionally, the linen system installed at Hilton Washington DC National Mall interfaces with the laundry system at Metro Laundry Service, in the Washington DC area. The system accurately records laundry activity and provides detailed billing reports. All laundry activity is recorded automatically for Hilton Washington DC National Mall to accurately monitor the laundry expenses and washing cycles.
The Hilton Washington DC National Mall benefits from InvoTech's extensive experience implementing their linen system for hotel grand openings. InvoTech ensures that all the linens are accounted for and tracked from day one. InvoTech coordinates for the linens to be delivered with a washable RFID tag already inserted into each piece. InvoTech's onsite installation and training services are provided for the staff so that clients obtain the maximum ongoing cost saving benefits.
"We started managing our linen inventory from day one. Using RFID technology, allows us to automatically track laundry activity, monitor linen aging and efficiently manage linen storerooms. I'm very excited about the capabilities this system delivers and how it helps our overall operations." said Munish Sarup, Applications Systems Analyst at the Hilton Washington DC National Mall.
"We continue to have InvoTech's linen systems installed in properties around the globe, many Hilton properties already take advantage of the many benefits InvoTech provides. Now, the Hilton Washington DC National Mall will use InvoTech's UHF-RFID linen system technology to monitor, control and report on movement of more than 30,000 linen items throughout the property and to and from the outsourced laundry" said Oswald Lares, InvoTech director of sales and marketing.
InvoTech has over 650 satisfied clients worldwide in more than 35 countries, including hotels, resorts, casinos, theme parks, stadiums, arenas, convention centers, medical centers, cleanrooms, and laundries. Why InvoTech? Because major brands like Hyatt, Marriott, Ritz-Carlton, Hilton, MGM International, Wynn Resorts, Caesars Entertainment, Universal Studios, LEGOLAND, Intel, Pfizer, Madison Square Garden, and Staples Center rely on InvoTech Systems to provide operational efficiency, full-accountability, and turn-key solutions for laundry, linen and uniform management. See what our clients are saying about us.
About InvoTech Systems
InvoTech Systems will be exhibiting at HITEC Minneapolis from June 17th-20th, 2019 at booth #2308. InvoTech Systems provides the most advanced inventory management systems for uniforms, linens, and laundry operations. Our very reliable and easy-to-use systems integrate the latest RFID technology to significantly improve operational efficiencies to eliminate losses, reduce purchases, cut labor costs, and lower laundry expenses. InvoTech provides solutions for hospitality, healthcare, cleanrooms, stadiums and arenas, theme parks, commercial laundries, and many other industries worldwide. With over 20 years of experience providing inventory management systems, InvoTech is known for our expertise and reliable solutions tailored to our client needs and outstanding customer support. Visit our website to find out more.
About Hilton Washington DC National Mall
Located steps away from the National Mall, White House, monuments, museums, and waterfront, the property is near it all, including a convenient elevator that brings you to DC's largest Metro Station, the L'Enfant Station providing easy access to what Washington DC offers. Our hotel has a restaurant and bar, resort style pool, fitness center, executive lounge and conference space. Opening in 2018, visit our website to book a reservation and updates on our property.
CONTACT:
InvoTech Systems, Inc.
Oswald Lares, Director of Sales & Marketing
20951 Burbank Blvd. Suite B
Woodland Hills, CA 91367 USA
Phone: 818-574-7795
Email: Sales@InvoTech.com
http://www.InvoTech.com