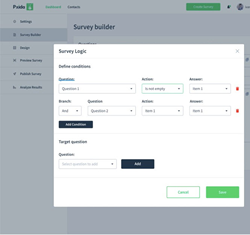 With the addition of enhanced survey logic, now all surveys on our platform can be made more intelligent, relevant and engaging for employees.
NEWTOWN, Pa. (PRWEB) August 20, 2020
PxidaTX, the revolutionary new employee survey application, equips HR professionals with advanced tools to understand human behavior and motivations and is now adding exciting new features every month. Each new feature aims to bring more actionable insight on employees than was ever dreamed possible before.
OSG's Chief Product and Marketing Officer, Simon Dumville said "It's very exciting seeing the appetite and take-up of PxidaTX with HR professionals in many different types of organization. A key element of all the interest we've seen is the way our unique AI powered "What Matters Most" survey adapts what it asks according to how employees respond to different questions. This makes it so much more engaging than flat traditional surveys. With the addition of enhanced survey logic, now all surveys on our platform can be made more intelligent, relevant and engaging for employees. On top of that, our new timeline feature automates the sending of pulse surveys to simplify the monitoring of key HR metrics over time and informs the change management process."
On August 18, 2020, PxidaTX became a little smarter with the addition of advanced survey logic. This feature is possibly one of the most exciting new features PxidaTX has rolled out to date. Survey logic creates the ability for the survey to respond intelligently to employees' answers to survey questions in real time and ask appropriate follow up questions based on their answers. Other new features include the ability to easily share proposed surveys with colleagues before publishing them with a test link and the ability to save your favorite surveys as templates to use over and over again.
PxidaTX was developed by OSG, a company which for more than 13 years has been developing unique technology in the field of behavioral analytics working with many Fortune 500 companies and household name brands. OSG helped these companies to understand human behaviors and motivations in order to successfully launch new products or guide product innovations. This core ability to understand human behavior was recently scaled for PxidaTX as an exciting new application for HR professionals to help them to understand their employees in more depth at every stage of the employee life cycle, and then, turn this understanding into very clear actionable insights that will drive more impactful decisions in any organization.
"We're seeing a great deal of interest in PxidaTX offering so much functionality often at fraction of the price of competing platforms. With plans starting from as little as $0.85 per user every 30 days, PxidaTX is clearly being seen as great value. Many cannot believe it offers so much at this price," said Dumville.
Businesses can find out more about PxidaTX and try it free on https://www.pxida-tx.com/