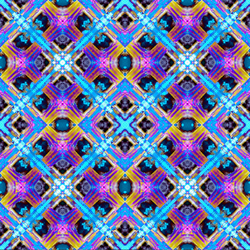 "The illuminated portals move with the viewer's gaze and take on a shimmering life of their own," said James Stanford, whose work is featured in a new popup exhibit in the Las Vegas Arts District. "This installation is visible from the street during the day but is particularly impressive at night."
LAS VEGAS (PRWEB) December 06, 2018
PORTALS, a new pop-up installation in the heart of the Las Vegas Arts District has created another way to view the beautiful complex photomontages of Las Vegas landmarks and neon signs by Las Vegas-based contemporary artist James Stanford. Several of the "digital painter's" illuminated works are exhibiting in vacant storefront windows of the historic Quivx Building at 1 E. Charleston Blvd., the arts area's major thoroughfare for pedestrians and cars.
Combining traditional photography with innovative technology, Stanford layers original photographs to reimagine them as rich digital mosaics. His abstract style features bold colors and mesmerizing visual networks.
"The illuminated portals move with the viewer's gaze and take on a shimmering life of their own," said Stanford. "This installation is visible from the street during the day but is particularly impressive at night."
Stanford's art reflects a strong connection to his native Las Vegas, featuring resonating symbols such as the original Tropicana Hotel or iconic neon signage. He often combines image and word in highly symmetrical and amplified patterns, wherein a single piece may contain 30 or more layers.
The PORTALS works include So Fabrish Old Tropicana (54" x 54") and Recombo Old Tropicana (54" x 54"). The popup installation follows the success of several recent Stanford exhibitions, most notably his solo show in Las Vegas and his recent showing at the Sculpture Objects Functional Art and Design Fair, the premier gallery art fair dedicated to three-dimensional art and design in Chicago, via Melissa Morgan Fine Art of Coachella Valley in Southern California.
Stanford's illuminated PORTALS installation will be the first of many select popup exhibitions curated by Laura Henkel of ArtCulture PR at the Quivx Building. The building, formerly known at the S2 Building, has a long art-related history through pioneering Las Vegas Strip gallerist Jack Solomon. Under Solomon, the building housed a traditional French press and was the largest dealer of high-end lithographs in North America.
According to Henkel, Quivx building owners are delighted to sponsor exhibitions in their downstairs space, and hope that a permanent art-centric tenant will occupy the space in the future. Quivx provides eDiscovery and business document solutions.
"The Quivx Building is strategically located to present dynamic art installations due to its close proximity to Radial Symmetry, a $246,000, 16' x 16' steel sculpture by local artist Luis Varela-Rico, on the median at Main and Commerce streets, and the Art District's multimillion dollar beautification by the City of Las Vegas designed to encourage pedestrian traffic to support the numerous art galleries, bars and restaurants, interior designers, antique and vintage stores in the area," Henkel said.
PORTALS by James Stanford will be displayed through Monday, Jan. 31, 2019.
For information, Laura Henkel can be reached at 702-608-2461, laura(at)artculturepr.com or http://www.artculturepr.com.
About James Stanford
An international exhibiting artist, James Stanford graduated with painting degrees at the University of Washington (UW) with a Master of Fine Arts and the University of Nevada, Las Vegas (UNLV) with a Bachelor of Fine Arts, and also practices photography, digital illustration and drawing. Dedicated to creativity and the fine arts, he has taught at UNLV and UW, established the Smallworks Gallery/Lost Vegas, and curated exhibitions at various venues, including the Las Vegas Contemporary Arts Center. Stanford also served as chairman of the Arts Commission of the City of Las Vegas and later president of the Las Vegas Contemporary Arts Center. Stanford's recent exhibition at Asia Art in London and the release of his book, Shimmering Zen, at The London Library, further showcases his ability to create new and innovative art. Due to the success of Shimmering Zen, he has further broadened the scope Smallworks Press, an independent publishing company specializing in books on arts and culture. He currently lives and works in Las Vegas. For information, visit http://www.jamesstanfordart.com or http://www.shimmeringzen.com or call 702-524-1019.
About Laura Henkel
Laura Henkel PhD has built a career as an art consultant, gallery proprietor and museum director. Having served in various executive leadership roles during the past 15 years, she founded ArtCulture PR to lend her knowledge to steward complex and diverse projects. With the expertise to create strategies and deliver results, she enjoys collaborating with creative minds across industries to execute ventures for stakeholders, corporations and nonprofits. From concept to completion, Henkel takes the time to dive deep to understand her client's vision to enhance the success of their projects. She has curated more than 400 exhibitions, inclusive of public art installations on and off the Las Vegas Strip. For information, contact Henkel at 702-608-2461, laura(at)artculturepr.com or http://www.artculturepr.com.
# # #