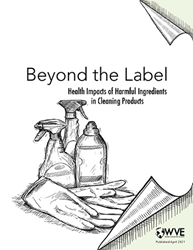 Fragrances used in cleaning products were hiding some of the most problematic chemicals. For example, fragrance chemical, Lilial, (often listed as butylphenyl methylpropional) is classified as a reproductive toxin and banned from products in the EU, but is still widely used in the U.S.
MISSOUA, Mont. (PRWEB) April 08, 2021
A new report by environmental health organization, Women's Voices for the Earth (WVE), spotlights how toxic chemicals in cleaning products add to the health disparities and disproportionate burdens many people face from occupational exposure, pollutants in their environments, as well as social, racial and gender injustices. By accessing new ingredient information, the report, "Beyond the Label: Health Impacts of Harmful Ingredients in Cleaning Products", calls attention to some of the most problematic and pervasive ingredients used in household and institutional cleaners, that have, until recently, been hidden from the general public.
"Many of the toxic chemicals we found are being disclosed for the first time in these products. We reviewed hundreds of products sold throughout the nation and found reproductive toxins, hormone disruptors and allergens used throughout brands, in varying products from detergents to carpet cleaners, and even in cleaners that market themselves as 'green'," said Alexandra Scranton, lead author on the report and WVE's Director of Science and Research. "Furthermore, none of the toxic chemicals we identified in the report are essential to the efficacy of the cleaning product. This exposure is unnecessary and is adding to the widespread public health burdens that impact our quality of life."
There is currently no federal law requiring manufacturers to list the ingredients in the cleaning products they produce. In 2017, California passed the Cleaning Product Right to Know Act (SB 258), requiring manufacturers to disclose their ingredients (including fragrance ingredients) online and on label. This law went into effect on January 1, 2020. While passed in California, this bill impacts the availability of ingredient information nationwide.
"For decades cleaning products companies have been legally allowed to hide their ingredients, even those widely recognized to cause harm to our health and our environment. This largely changed in 2020 as the result of the Cleaning Product Right to Know Act," said Amber Garcia, Executive Director at Women's Voices for the Earth. "Now, more than ever, we have a greater understanding of what we're exposed to in keeping private and public spaces clean. And what we're finding is unacceptable, especially when considering the numerous compounding health burdens that many people who use cleaning products already face."
The overwhelming majority of those who clean for a living are women, people of color and low-income people. At the same time, these communities are more likely to experience racism, sexism, and other forms of discrimination, breathe more polluted air, and live in neighborhoods where high risk chemical and commercial hazardous waste facilities are located.
Several of the toxic chemicals identified in the report pose specific risks during pregnancy, which is especially concerning as cleaning products are frequently marketed to women. While gender roles and societal expectations have changed over time, a national study showed that women still complete over 70% of the housework in the average home. Studies also show that overwhelming majorities of people working as housecleaners are women and over half are Black, Hispanic or Asian American and Pacific Islander. In California, a study found housecleaners in the state are 94% are women and 87% are Latinx.
The report also highlights particular concerns with scented cleaning products. Fragrance is a major driver in the marketing of cleaning products, which tend to have relatively simple formulas – often only distinguished from one another by how they smell. However, fragrances used in cleaning products were hiding some of the most problematic chemicals including those linked to reproductive harm, aquatic toxicity, allergens and hormone disruption. For example, fragrance chemical, Lilial, (often listed as butylphenyl methylpropional) is classified as a reproductive toxin and banned from products in the EU. Recent ingredient disclosure by companies reveals it is still used widely in the United States including laundry products, air fresheners, multipurpose cleaners, glass cleaners, and carpet deodorizers. Even more alarming, many of the heavily fragranced brands specifically marketed to the Latinx community including Fabuloso, Fragranzia, Suavitel, and Xcelente, commonly contain this reproductive toxin.
In addition to Lilial, the report also found other chemicals commonly used in cleaning products sold in the United States that are banned from cosmetic products in the EU: Fragrance chemical, HICC (hydroxyisohexyl 3-cyclohexene carboxaldehyde) and preservatives MI & MCI (methylisothiazolinone and methylchloroisothiazolinione) have been banned in the EU due to their well-known links to skin allergies.
"We now can clearly see that cleaning products companies are exposing us to unnecessary toxic chemicals. Exposure from consumer products is further compounded by what we eat, where we work, where we live, access to information, resources, quality and affordable healthcare, as well as our gender, race, and income. The industry needs to prioritize the intersecting conditions that impact health when designing safer products, and they should be accountable for their role in the cumulative impacts of exposure from cleaning products on individuals, communities and the environment. Companies can, and must, do better. And this report clearly shows them where they can start," said Garcia.