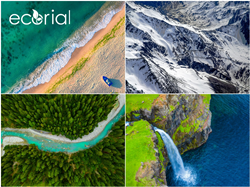 Ecorial™ makes it easy for families to create a permanent record of their loved one's exact memorial location, along with the date and time of the event, and quickly design and share an interactive online memorial."
GREENWOOD VILLAGE, Colo. (PRWEB) September 03, 2020
Biolife, LLC, the developer of The Living Urn®, America's leading bio urn and planting system, and other market leading eco-friendly urns, is excited to announce the launch of Ecorial™, a new app and web platform that serves families placing or scattering a loved ones ashes in nature.
With Ecorial™, families can quickly and easily "mark the spot" of the final resting place of a loved one's cremated remains when scattered or buried in nature - in the mountains, in the ocean or other body of water, with a tree burial, or at any special place! The easy-to-use app permanently records the time, date, and precise GPS coordinates on the Memory Map™ with a simple touch of a button. In addition, Ecorial gives families the ability to create an interactive online memorial with ease and share photos and videos of their loved one and their final resting place with friends and family. Ecorial is available for families all over the world to use and can be found in Apple's App Store (for iOS), Google Play (for Android), and on the web at ecorial.org.
Mark Brewer, Biolife's CEO, commented, "We're extremely excited to introduce Ecorial to serve families who use our products, including The Living Urn®, Eco Water, Eco Scattering, and Eco Burial, as well as other urns and green burial products available in the market. We believe this fills a significant need in the funeral industry - Ecorial™ is the first and only global platform that provides a permanent record and secure databank of people who are memorialized outdoors. These special memorials can be shared with friends and family today in addition to being accessible for future generations to find, view, and even visit."
Brewer continues, "Until now, many families simply guess where their loved one's resting place is in nature - the location information is passed to family and friends by word-of-mouth at risk of being lost forever. Now, Ecorial™ makes it easy for families to create a permanent record of their loved one's exact memorial location, along with the date and time of the event, and quickly design and share an interactive online memorial."
About Ecorial™
Ecorial™ is the leading new way to memorialize and honor a loved one as they Rest in Nature™. When scattering cremated remains on land or in the water, burying remains at a special place, or planting cremated remains with a tree, use the Ecorial™ App to "mark the spot" by recording the exact GPS coordinates plus the time and date of the event. You can also upload photos and videos of your loved one's forever resting place and create a beautiful interactive online memorial with ease. This special location can be found forever on the Memory Map™ and shared with family, friends, and, if you choose, the world to see! The Ecorial app can be found in Apple's App Store (for iOS), Google Play (for Android), and on the web at ecorial.org.
About Biolife, LLC
Based in Colorado, Biolife is committed to developing and providing unique cremation urns serving families looking for eco-friendly afterlife options that can be more meaningful and personal. Its growing market leading product offering includes the patented Living Urn®, the leading bio urn and planting system designed to grow a tree with cremated remains, The Living Urn® Indoors, the Eco Scattering Urn, a unique bamboo urn for scattering ashes, the Eco Water Urn, a proprietary urn that floats and gracefully frees ashes in water, the Eco Burial Urn, a special bamboo burial or traditional decorative urn, and Flow the Ice Urn, a patented urn made from a block of ice. The company is developing additional eco-friendly cremation urns that it will be introducing in 2020 and 2021.